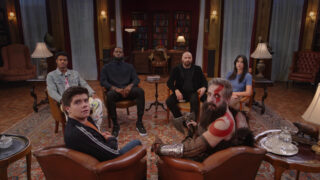 Publisher Sony Interactive Entertainment and developer Santa Monica Studio have released a new advertisement for God of War Ragnarok dubbed "All Parents Can Relate," featuring Ben Stiller, John Travolta, LeBron James, and their kids.
The video description reads: "What could real parents learn from the relationship between Kratos and Atreus? Whether you're a famous celebrity or a troubled god, parenting is always a work in progress. Just ask parent support group leader, Ben Stiller, as he explains to LeBron James, John Travolta and their children how the father/son dynamic in God of War Ragnarok can inspire us all to become better parents—especially when wearing the Kratos costume."
God of War Ragnarok is due out for PlayStation 5 and PlayStation 4 on November 9.
Watch the advertisement below. Read more about it, including comments from the actors, at EW.
All Parents Can Relate