Star Ocean: The Divine Force character trailers – Theo Klemrath, J.J.
The final two party members.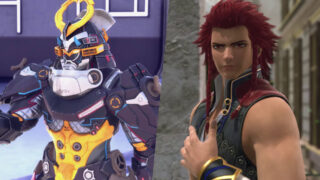 Publisher Square Enix and developer tri-Ace have released a new pair of character trailers for Star Ocean: The Divine Force introducing party members Theo Klemrath and J.J.
Here are Square Enix's descriptions of each character:
Theo Klemrath – Theo is a knight of the Kingdom of Aucerius and heir to Crown Prince Lombert and cousin to Laeticia. He has known Laeticia and Albaird since childhood and behaves like an older brother to them. Big-hearted and magnanimous, Theo also acts as commander in the Aucerian Navy and is trusted by his men. However, when it comes to the internal politics of the kingdom, Theo finds himself torn between allegiance to his warmongering father and to the king and Laeticia.
J.J. – J.J. is a knight who has mechanised his entire body. He encounters Raymond and Laeticia while fighting to protect his homeland. Calm and collected yet noble and upstanding, J.J. values his comrades highly. He carries a thin-bladed sword and fights using a unique style of fencing.
Previous character trailers introduced Raymond Lawrence, Laeticia Aucerius, Albaird Bergholm, Elena, Midas Felgreed, Nina Deforges, Marielle L. Kenny, and Malkya Trathen.
Star Ocean: The Divine Force is due out for PlayStation 5, Xbox Series, PlayStation 4, Xbox One, and PC via Steam on October 27 worldwide. Read more about the game here and here.
Watch the trailers below.
Theo Klemrath Trailer
English
Japanese
J.J. Trailer
English
Japanese