Star Ocean: The Divine Force character trailers – Marielle L. Kenny and Malkya Trathen
Two more party members showcased.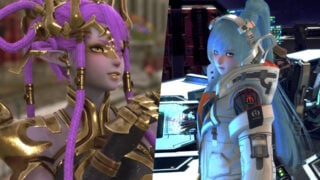 Publisher Square Enix and developer tri-Ace have released a new pair of character trailers for Star Ocean: The Divine Force introducing party members Marielle L. Kenny and Malkya Trathen.
Here are Square Enix's descriptions of each character:
Marielle L. Kenny – Marielle's a lieutenant aboard the Pangalactic Federation's latest battleship, the Astoria. , Marielle graduated from the military academy at the top of her class. However, she still puts an inordinate amount of pressure on herself to meet others' expectations and uphold the pedigree of her family name.
Malkya Trathen – Malkya is the leader of the Trathen, one of the many races that live on the southern continent of Nihlbeth. Malkya is highly intelligent with a keen mind and intuition. Like all members of her race, her malleable body allows her to take any form at will.
Previous character trailers introduced Raymond Lawrence, Laeticia Aucerius, Albaird Bergholm, Elena, Midas Felgreed, and Nina Deforges.
Star Ocean: The Divine Force is due out for PlayStation 5, Xbox Series, PlayStation 4, Xbox One, and PC via Steam on October 27 worldwide. Read more about the game here and here.
Watch the trailers below.
Marielle L. Kenny Trailer
English
Japanese
Malkya Trathen Trailer
English
Japanese