CD Projekt RED announces three new Witcher games, new Cyberpunk 2077 game, and new IP 'Hadar'
CD Projekt RED to open new studio in Boston.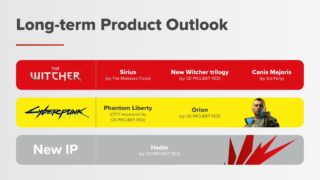 CD Projekt RED has announced five new projects: a new Witcher game codenamed "Sirius" by The Molasses Flood, new Witcher trilogy by CD Projekt RED, new Witcher game codenamed "Canis Majoris" by a third-party, new Cyberpunk 2077 game codenamed "Orion" by CD Projekt RED's new Boston studio, and an entirely new intellectual property codenamed "Hadar" by CD Projekt RED.
Get the details below.
Long-Term Product Outlook

■ The Witcher

"Now, allow me to introduce our production plans for further years. The first three releases in our pipeline will belong to The Witcher franchise, and we've already started pre-production of two of them," said CD Projekt RED president and Joint CEO Adam Kicinski.

Sirius (by The Molasses Flood)

"The Molasses Flood game, codenamed 'Sirius,' is set in the Witcher universe and is being created with support from CD Projekt RED developers. It will differ from our past productions—in the sense that it is targeted at a broader audience. Along with the single player experience gamers will be able to play with others, as 'Sirius' will contain multiplayer.

New Witcher Trilogy (by CD Projekt RED)

"Another project, codenamed 'Polaris,' is the game which opens the new Witcher saga, further expands upon the open world storytelling known from The Witcher 3: Wild Hunt. There will be three games in the saga and we aim to deliver them over a six-year period starting from the release of Polaris. It's a bold statement as we are talking about three large-scale productions, but we really mean it and we have a plan on how to achieve it. Both the second and the third installments will, in technological terms, benefit from the groundwork laid during development of Polaris. In this way we aim to smoothen the development process while at the same time staying creatively ambitious.

Canis Majoris (by Third Party)

"The next project—codenamed 'Canis Majoris'—will be another full-fledged Witcher production. It will be created by an external studio that Michal just spoke about, headed by experienced developers who have worked on earlier Witcher games. Techwise, we plan to use Unreal Engine 5 and the toolset we are creating for Polaris.

■ Cyberpunk 2077

"As you have seen there is a lot happening in the world of The Witcher, so let's jump into the dystopian future.

Phantom Liberty (Cyberpunk 2077 Expansion by CD Projekt RED)

"This year we plan to release […] a major expansion for Cyberpunk 2077, titled 'Phantom Liberty.'

Orion (by CD Projekt RED)

"Another project that we want to focus on is Orion, again it's a codename, the next Cyberpunk game that will fully unleash the potential that this universe offers. Our ambitious plans will require a lot of work, dedication and further growth of the team.

"Speaking of which I have important news to share. We are creating a new studio based in North America. Next to The Molasses Flood—which will remain solely focused on Sirius—we are setting up a team in Boston, that together with our existing Vancouver-based team will establish CD Projekt RED North America. This studio will be in charge of leading development of Orion. This move will enable us to fully draw upon the North American talent pool."

■ New IP

Hadar (by CD Projekt RED)

"I am excited to announce that CD Projekt RED has begun creative exploration on a third, entirely distinct IP—codenamed 'Hadar,'" said CD Projekt RED senior vice president of business development Michal Nowakowski. "We had started thinking about it a few years ago. Early-stage conceptual works commenced in 2021, and—for the first time in our history—the IP is being incubated entirely within CD Projekt RED. It is important to understand that we are not making a game just yet. We are working on the foundation of this new setting.

■ Multiplayer

"That would be all about the new games, but we have more to share with you today. While we believe that our games and worlds we create within them are telling great stories that impact many, we also believe that letting gamers interact with each other will create new experiences for them. By doing so, we do not want to make the single player experience smaller in any way because of that direction. What is important, Unreal Engine 5—our new engine—offers a solid tech framework, allowing us to develop multiplayer for most of our future titles. Our approach to developing online competences, and a broad overview of the technological changes occurring at the Group, are presented by Board Members responsible for these respective fields."

Message from Marcin Iwinski

"Hi everyone,

"Today I have some news that's both important to me and to the company.

"I am beginning a brand new personal chapter at CD Projekt, as I will submit my candidacy for the role of Chairman of the Supervisory Board, leaving behind my Joint CEO role.

"By the end of 2022, I'll hand over my duties to my colleagues from the board. For me, this is a huge moment. I've been at CD Projekt for almost 30 years and I have seen it go from a handful of passion-driven rebels to an internationally recognized developer of story-driven role playing games loved by millions globally. Back when Michal Kicinski and I founded the company, I don't think either of us would have been able to imagine this incredible journey, not even in our wildest dreams.

"When I think about the future of CD Projekt, it is so exciting for me. Today, the company consists of over 1,200 people across offices all over the world. But CD Projekt has never been about physical place or scale—it's all about the huge amount of talent we have, and the hard work and dedication of everyone who chooses to work here.

"It is thanks to that commitment and amazing talent that right now I have that same feeling I had all those years ago—hunger and optimism for what's ahead. It really feels like this is only the beginning. Our hugely ambitious strategy has such an inspiring and strong team at the helm, and I deeply believe in our plan to take CD Projekt to new heights. As such, I intend to remain a major shareholder, and in my new non-executive role I will remain active and engaged dedicating my focus on supporting the entire Management Board. I will also remain connected to the core of what makes us special, which is making the best storytelling games in the world and doing right by gamers.

"I want to thank everyone who has ever been a part of what I think is one of the most vibrant video game companies in the world. I say this to every RED team member, every business partner, and-most importantly-every gamer… From the bottom of my heart thank you!"

—Marcin Iwinski
Co-Founder, Joint CEO, CD Projekt RED
Watch the full CD Projekt Group strategy update announcing the new projects below.
CD Projekt Group Strategy Update: Long-term Product Outlook