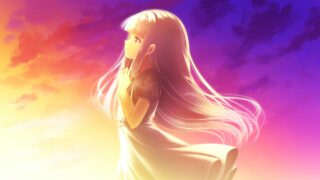 Kemco will release Water Phoenix-developed visual novel Stand by You for PlayStation 5, PlayStation 4, and Switch this fall in Japan, the publisher announced.
Stand by You first launched for iOS and Android on November 5, 2015 in Japan, followed by PC via DMM Games on November 12. An English release followed for iOS and Android on November 24, 2017, and for PC via Steam on December 8.
The console ports come following a successful Campfire campaign to fund PlayStation 4 and Switch ports of the game with redrawn portrait and event images, as well as new illustrations.
Here is an overview of the game, via its Steam page:
Story

One day, high school student Kyouya awakens to find that the world has changed.

He is unable to move, buildings are deserted, and the wasteland is never-ending.

According to a girl passing by, the world has come to an end.

Unwilling to believe her, Kyouya travels the ruined world with the girl in search of life.

—–But the girl has a "mission."

To atone for humanity's sins, she must continue to die.

Several times, dozens of times, hundreds of times, thousands of times, and tens of thousands of times… she dies and comes back to life.

As Kyouya spends time with the girl who knows only pain, he wants to show her happiness.

Just him and her in a ruined world.

A journey to survive with the girl who continues to die.

Characters

Kyouya – The protagonist. He wakes up in an unfamiliar room and is unable to move his body.
Asagiri (voiced by Mayu Matsushiro) – A girl who calls herself "human." She goes on a journey alone in a ruined world to fulfill a "mission."

Play Time

Play time is about three-to-five hours.