NIS America Showcase 2022 set for September 7 featuring four new game announcements
Plus updates on existing titles.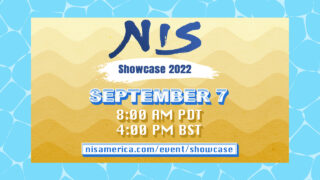 NIS America will host NIS America Showcase 2022 on September 7 at 8:00 a.m. PT / 11:00 a.m. ET, the company announced. You will be able to watch it on Twitch.
The showcase will feature four new game announcements, a handful of updates, and a post-show with an in-depth look at upcoming games launching soon.
The company will also hold a giveaway for an exclusive, one-of-a-kind acrylic print featuring artwork from one of the newly announced games.
Watch a teaser trailer below.
Teaser Trailer