STRAY PS5 physical edition launches September 20
Pre-orders available now.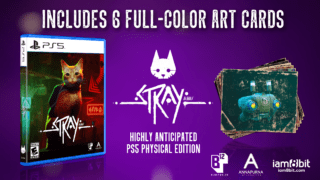 The physical edition of STRAY for PlayStation 5 will launch on September 20, distributor Skybound Games announced.
STRAY for PlayStation 5 will be available in a standard retail edition including six full-color art cards, as well as in an iam8bit Exclusive Edition, which includes a premium matte black sleeve, 14.4 by 24 inches poster of the first teaser art for STRAY, six premium art cards, and a fuzzy petable chenille patch of the hero cat.
Pre-orders for the iam8bit Exclusive Edition, as well as a vinyl version of the original soundtrack, are now available via iam8bit. Standard edition pre-orders will go live at retailers worldwide starting today.
STRAY is due out digitally for PlayStation 5, PlayStation 4, and PC via Steam on July 19.
Watch a new trailer below. View a new set of images at the gallery.
Physical Edition Announce Trailer
Physical Edition Images