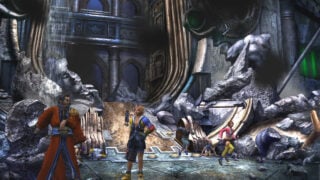 Total worldwide shipments and digital sales for the Final Fantasy X series, which includes Final Fantasy X and Final Fantasy X-2, have surpassed 20.8 million units as of September 2021, Square Enix confirmed to Gematsu.
In October 2013, Square Enix announced that the series had sold over 14 million copies. Since this was before the initial release of Final Fantasy X | X-2 HD Remaster, it can be assumed that the remastered collection makes up the additional 6.8 million units.
In other news, Square Enix announced that a new Final Fantasy X kabuki play will be performed at IHI Stage Around Tokyo in spring 2023 as part of the Final Fantasy series' 35th anniversary. Performers include Onoe Kikunosuke, Nakamura Shidou, Onoe Matsuya, Baishi Nakamura, Mantaro Nakamura, Yonekichi Nakamura, Nakamura Shikan, Kichitaro Kamimura, Shinobu Nakamura, Bando Hikosaburo, and Bando Yajuro. Visit the official website here.