Tales of Luminaria to end service on July 19
Latest mobile Tales of RPG survived eight months.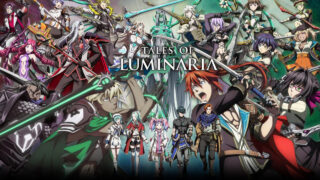 Tales of Luminaria will end service on July 19, publisher Bandai Namco announced.
The RPG, developed by COLOPL, first launched for iOS via App Store and Android via Google Play on November 4, 2021.
"As the first completely original mobile title in the Tales of series, our sincerest intent was to make this game fun and, by taking on various challenges, to bring Tales of to a wider audience around the world, not only Japan," Bandai Namco said in a message announcing the game's end-of-service. "Additionally, we have tried our best to make this service playable aver a long time, encouraged by the supportive comments and feedback we have received on social media.
"However, we could not do enough, and we sincerely apologize to all those who have supported and played Tales of Luminaria."
Get the full message below.
■ Developer Message, Vol. 8

As always, thank you all for playing Tales of Luminaria.

We regret to announce that the service for Tales of Luminaria will be sunset on July 19, 2022 PDT.

As the first completely original mobile title in the Tales of series, our sincerest intent was to make this game fun and, by taking on various challenges, to bring Tales of to a wider audience around the world, not only Japan. Additionally, we have tried our best to make this service playable aver a long time, encouraged by the supportive comments and feedback we have received on social media.

However, we could not do enough, and we sincerely apologize to all those who have supported and played Tales of Luminaria.

About Future Episodes

Weekly episode distribution will end with this announcement. We apologize for the sudden notice, as you may have been expecting a new announcement of the next episode. We unfortunately will not be able to fully depict the fate of the 21 heroes and must end the episodes in the middle of the story. Even more some characters will be left without getting an episode 2. We are very sorry for leaving these stories untold.

Even though we could not complete all the storylines for each character, we have been considering whether there is any way to bring closure to their story, even if only slightly. With that thought, we have prepared a special "Episode Final," which takes place right before the anime Tales of Luminaria: The Fateful Crossroad. This episode focuses on why Hugo eventually sided with the Empire. We truly regret not being able to provide full closure to this story, but we hope you will enjoy this "Episode Final."

Regarding the Archiving of Works

We are considering archiving the costumes designs, illustrations, etc. of the characters released during the service out of application as a "digital archive," so that players can continue to experience and reminisce about Luminarla's universe and its characters even after the service ends. We are also working on a soundtrack for the in-game background music.

We will reach out again as soon as we have more details.

About later updates, we have listed the schedule until the end of the service below.

Ver: 1.6.0 Update (scheduled for end of May 2022)

Delivery of Episode Final.
LV UP Camp stage renewal.
Memorial Summon for all 21 characters
New 5-star Episode 2 costumes and weapons for Vanessa, Caspard, Anelle, and Lydie.

Players will also receive tickets that can be exchanged for 5-star costumes and weapons.

New three-star costume "Work Outfit" for August from his apple farmer days.
Multiplayer boss battle update.

One out of a total of sight Primordial Beasts will appear at random, including Lazui, a new addition to the existing Primordial Beasts.

Login calendar reward updates.

End of Service

July 19, 2022 at 19:05 PDT.

The official website and trailers will be taken down in conjunction with the end of the service.

Finally, we would like to sincerely thank you for all of your support of Tales of Luminaria. We apologias again for not living up to your expectations and having to announce that the service will be sunset. Although there is only a short period of time remaining. we hope that you will enjoy this game to the end. Thank you

—The Entire Tales of Luminaria Team