Soul Hackers 2 'Summoners Guide Vol. 3' video – Saizo, Demon Fusion and Growth
Combine demons to get a stronger demon.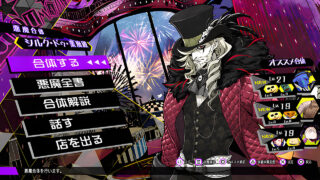 ATLUS has released the third volume in its series of "Summoners Guide" information videos for Soul Hackers 2.
The official Japanese website was also updated with a "System: Demon Fusion and Growth" page.
Soul Hackers 2 is due out for PlayStation 5, Xbox Series, PlayStation 4, Xbox One, and PC via Steam on August 25 in Japan and August 26 worldwide. Read more about the game here.
Get the video and full English transcript below.
■ Introduction

Hey hey, how've you been? I'm Ringo of Aion. We're already on the third episode of the Summoners Guide series, a program that teaches you how to be a Devil Summoner. Well, let's get right into the info for today! 're going to be diving into the world of Devil Summoners soon, so I'll teach you more about it.

■ Setting: Summoners Operating in the Shadows

Demons are beings beyond human understanding that have existed since ancient times. Those who can form contracts with them and utilize their powers are known as Devil Summoners. There are various factions and organizations among Devil Summoners. Among them is the supranationalist group known as Yatagarasu.

—R.S.: "Whoa, whoa… Step off, homie."

Phantom Society, a secret organization plotting to summon the Great One, has been growing more active as of late. They've continued to cover up their crimes by infiltrating the government and influencing it from the inside.

—Tall Demon: "I am Azazel, testimony to darkness, and its king!"

There are many facilities that are used by Summoners and support them behind the scenes. Facilities involving people, work, and information… A black market that offers strange items of dubious origins… A facility for upgrading Summoner gadgets called COMPs… Cirque du Goumaden, run by the Demon Fusion specialist Victor (voiced by Banjou Ginga).

Some districts developed alongside these facilities, eventually becoming cities concealed from the public known as "Realms." Summoners will not fight within Realms, regardless of one's affiliation. In other words, Realms are hidden cities protected by a mutual truce. Realms are neutral ground, so Yatagarasu and Phantom pretend they don't see each other there. It's the perfect place to gear up for battle and gather intel.

Saizo

Have you checked out Saizo's video that was released the other day? I'm going to introduce him in a bit more detail today. Saizo the independent Devil Summoner. He was the third one to join me. Saizo is the type of person who gets along with everyone. He's quick-witted and knows how to deftly handle any situation. Maybe that's why he's been able to work freelance for so long. He's been really helpful in keeping the team running smoothly. It seems there are all sorts of humans out there. They really are fascinating.

Now, let's talk about some people who have a history with Saizo.

Ash, a Devil Summoner of Phantom Society. She's the straightforward type on the surface, and according to Saizo, she also has a compassionate and romantic side. Ash is actually Saizo's ex-girlfriend. It seems they still have feelings for each other, but… I hear she was involved in Saizo's murder somehow. Hmm… Romantic relationships sure are complicated. What could have happened between those two…?

Now, onto Saizo's fighting style. He's adept at attacking with gunfire COMPs and has a high affinity for Force skills. His high speed also makes him great at supporting the team with healing skills and items. His fighting style really suits a clever guy like him. >> Tarukaja Bead

I think that covers my impression of Saizo. I'm sure there will be many times when he gets you out of sticky situations too. Be sure to give him a hand if he ever needs your help. Of course, you'd help me too, right?

Now, let's get into the details of our precious friends, the demons. As a Devil Summoner, you should know this stuff like the back of your hand.

■ Demon Fusion and Growth

At Cirque du Goumaden in Roppo Realm, you can combine demons into a new one via demon fusions. You can combine any two demons with Normal Fusions… And combine specific demons to perform Special Fusions.

—Choose which skills to inherit.

You can also create demons by setting certain search criteria and performing a Search Fusion.

—Commence fusion? –> Yes

You can even get suggestions on what to fuse based on the demons you have on hand to perform Recommended Fusions. Whether you want to be meticulous with your fusions or want it to be quick and easy, you can create demons based on your preferred play style. I'm sure you'll be seeing a lot of Victor at Cirque du Goumaden.

Not only do your demon's stats increase as they level up, but they can also learn new skills. Once a demon acquires all of its skills, it can give you a gift as a token of appreciation. There are many types of gifts, with Mistiques being particularly special among them.

Mistiques are items that can be equipped onto COMPs for various effects. They can increase the potency of affinity attack skills, reduce MP cost, enable the usage of certain skills, and provide various other effects. The kind of Mistique you can be gifted depends on the demon, so try leveling up many different demons.

Wouldn't it be nice to get presents from demons you raised with care? I'm counting on you to master raising and fusing demons to grow even further as a Devil Summoner.

■ Conclusion

Well, that's it for today's Summoner's Guide. Look forward to the next one, okay? See you next time!
"Setting: Summoners Operating in the Shadows" Part Only
"Demon Fusion and Growth" Part Only