Grasshopper Manufacture and Nagoshi Studio interview videos discuss NetEase Games advantages
Suda hopes to announce a new project by the end of 2022.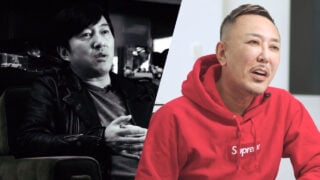 NetEase Games has published a pair of short interview videos with Grasshopper Manufacture president and CEO Goichi "Suda 51" Suda, and Nagoshi Studio president and CEO Toshihiro Nagoshi.
The Chinese company acquired No More Heroes developer Grasshopper Manufacture back in October 2021, and established the Yakuza series creator-led Nagoshi Studio in January 2022.
In the interview videos, Suda illustrates a dramatic transformation for Grasshopper Manufacture under NetEase Games, and teases a new title to potentially be announced by the end of 2022, while Nagoshi describes his studio in three words and discusses how he is sharing knowledge with and learning from NetEase Games developers.
Get the interviews and transcripts below.
Grasshopper Manufacture: Goichi Suda Interview
Goichi Suda: "Well, about that… to quote someone… 'I am ecstatic and I am terrified to be chosen…' This is pretty much how I felt when starting up Grasshopper. I used to puke up bite-sized bits. You know, like… just little bits of puke, sometimes.

"At Grasshopper, our studio has been quite independent for a long time. Now that we've joined the NetEase Group, we receive a huge amount of support for creating games.

"We've recently opened our brand new studio, which we've nicknamed 'Yabukiri Studio.' 'Yabukiri' is the name of a type of grasshopper, and it's known as the toughest of the grasshoppers. So we went with Yabukiri Studio.

"One of the unique things about Grasshopper is that I don't have my own 'President's Office.' Everyone is within my field of view, and I'm also within everyone else's field of view… We've done it this way since the company was founded, and I really didn't want to change that.

"So I founded this studio called 'Grasshopper,' and I feel it represents a kind of ideal, 'complete' studio. So the games we make at this studio… I mean the really, truly cool and all-new games, we're going to continue creating them, and I think everyone is going to be really impressed…

"I wonder when I can announce this…? Maybe around the end of the year? I'm not sure… It may end up being next year, we'll see how it goes. Anyway, I want to hurry up and show everyone what we're doing.

"These days, I've been working on back-to-back projects, and I'd like to start a second project when the time comes… I want to do a project focusing on the younger Grasshopper staff, and have them create games in their own new game style. First I'd like to start with that… and then see if we can make it to a second and third title. I really want to do it properly and make it work.

"I can't wait to show everyone Grasshopper version 5.1. We're being reborn. It's almost like shedding our skin. Grasshopper has shifted through various version so far, but this latest version is, seriously, dramatically different. I feel like the greatest thing we can do is to keep bringing new games to the world. So keep an eye out for some really cool stuff, everyone."
Nagoshi Studio: Toshihiro Nagoshi Interview
If you are asked to describe Nagoshi Studio in three words, what would they be?

Toshihiro Nagoshi: "The first word I would say is 'Globality.' For me, rather than spending my time producing, I prefer doing things more efficiently. 'Speed' would be the second word. But the most important one is 'Openness,' which I also put on our homepage. We are a team working on a game after all. For a team, I believe communication is essential. That's why I chose the word 'Openness' to emphasize our attitude towards communication."

How is the partnership with NetEase Games influencing the studio's vision?

Nagoshi: "From the perspective of development, I think we are professionals in console games, while NetEase has very popular mobile games, or to say online games. Their games are really popular among players. So both of us have some technologies that the other lacks. We can learn something from each other. Meanwhile, we will keep our existing strengths as well. In terms of technologies and skills, by absorbing and learning, we can make ourselves better. That's the relationship I want to develop between us.

"Because of COVID-19, I cannot go to China. That's a real pity. We are working on different methods of communication to exchange our ideas with each other, about what we're doing right now. When we encounter troubles, if we can communicate with each other, if there's an open section like this to improve both of us, I do believe we can maintain a healthy partnership. And I will make this a project of mine."