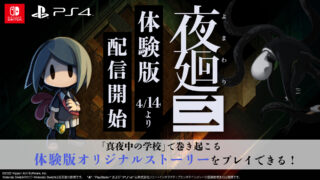 A demo for horror action adventure game Yomawari 3 will launch for PlayStation 4 via PlayStation Store and Switch via Nintendo eShop on April 14 in Japan, publisher and developer Nippon Ichi Software announced.
The demo will feature an exclusive original story not playable in the main game. In it, the protagonist sneaks into a school in the dead of night with two friends in order to verify the truth of a strange rumor circulating the halls. However, a certain incident leads the protagonist to become separated from her friends.
Yomawari 3 is due out for PlayStation 4 and Switch on April 21 in Japan. Read more about the game here, here, and here.
View a new set of screenshots from the demo at the gallery.