Oita Beppu Mystery Guide: The Warped Bamboo Lantern announced for Switch, other platforms
Switch version due out on July 7 in Japan.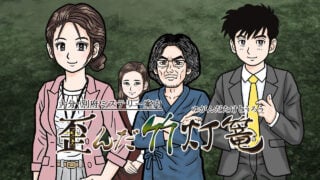 Publisher Flyhigh Works and developer Happymeal have announced Oita Beppu Mystery Guide: The Warped Bamboo Lantern, the third entry in the mystery adventure game series Mystery Guide. It will launch for Switch on July 7 in Japan, followed by additional platforms at a later date. The first two games were also released for PlayStation 4 and PC at later dates.
Here is the game's prologue synopsis:
Beppu City, Oita.

In this scenic land, a major art exhibit called "Techmix" will soon be held, which fuses the traditional bamboo craft of Beppu with the latest digital art.

The combined forces that are the head of the distinguished Anan family, which produces a large number of artists, and "Artenuv," a group that creates art using leading-edge technology, are expected to draw a large crowd to the novel exhibit.

However, the high profiles of its representatives are also a subject of envy and animosity, as is the exhibit to slander and threats from those who see problem with it.

The protagonist (the player) and junior detective Ken, perhaps in recognition of their routine success and investigative abilities, are hired for the specific intent of increasing security for the exhibit, and hurriedly make their way to Oita.

Empathizing with the people of Oita participating in the exhibit and praying for its success, the protagonist and Ken strive to protect it as a security team.

However, an incident occurs in a place they would have never expected…
Watch the announcement trailer below. View the first screenshots at the gallery. Visit the official website here.