Loot River 'Loot Overview' trailer
Wield 26 weapons, each with unique attacks and special properties.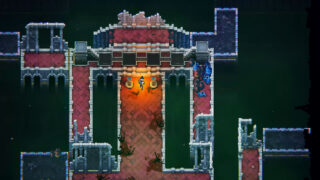 Publisher SUPERHOT PRESENTS and developer straka.studio have released a "Loot Overview" trailer for dungeon crawling action roguelike Loot River.
Here is an overview of the video and game, via SUPERHOT PRESENTS:
The video gives players a look at the weapons and loot that they can find while exploring the game's fantasy-inspired procedurally-generated labyrinths, and gives some tantalizing examples of how they can be combined to create fun and powerful builds. You'll need them if you are to survive unforgiving dungeons populated with bestial abominations!

In Loot River, players are able to harness the power of the Relic to shift the ground beneath them, sliding around on the floating pieces of ruined landscapes. These Tetris-like blocks can be slotted together to solve spatial exploration puzzles and employed creatively as a tool in combat to manipulate enemies and control the space on which your battles take place. As players venture through these endless catacombs, they'll encounter a cursed array of tough enemies, lost travelers, and epic bosses. The wealth of new weapons, gear and unholy knowledge you can unearth for permanent upgrades will be crucial to help you get further with each run.

Drawn to shards of an unholy relic, wandering nomads have found themselves in a perpetual cycle of life and death, losing their sanity as they journey through endless parallel realities, devouring each other to absorb the knowledge of their fellow travelers. No two journeys are ever the same as countless lost souls float through the Loot River.
Loot River is due out for Xbox Series, Xbox One, and PC via Steam "very soon." It will also be available via Xbox Game Pass.
Watch the trailer below.