Diablo Immortal launches June 2 for iOS, Android, and PC open beta
A wild PC version appears.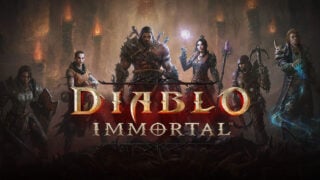 Free-to-play action RPG Diablo Immortal will launch for iOS via App Store and Android via Google Play, as well as for PC in open beta on June 2, developers Blizzard Entertainment and NetEase Games announced. All versions will support both cross-play and cross-progression.
"The demons of the Burning Hells are ready to be slain in the most expansive Diablo game that Blizzard has ever released," said Blizzard Entertainment president Mike Ybarra in a press release. "As Blizzard's first game designed from the ground up for mobile, it was important to us to deliver an experience worthy of the franchise, so we did a lot of testing, incorporated a lot of feedback, and created a game that we're very excited to share with players. We're looking forward to unleashing this epic new entry in the Diablo franchise, and we can't wait to join everyone in Sanctuary."
Here is an overview of the game, via Blizzard Entertainment:
About

Diablo Immortal is an uncompromising AAA Diablo mobile experience featuring all the unbridled mayhem of the genre-defining action role-playing game franchise is known for but now in a massively multiplayer online world. Play anytime and anywhere with full cross-play and cross-progression between mobile and PC. As the first-ever MMOARPG of the series, Diablo Immortal offers rich social mechanics, a massive shared world where you will encounter other players, intense eight player-boss raid encounters, and more.

Key Features

Official Launch Date – The gates of Hell are opening soon! Diablo Immortal will release in most regions on iOS, Android, and in Open Beta on Windows PC on June 2 and later in June for select Asia Pacific regions.
Cross-Play and Cross-Progression with PC – Blizzard's mobile-first experience is also on Windows PC via Battle.net, allowing players to adventure with everyone across all platforms and to seamlessly move from PC to mobile device without skipping a beat.
PC Open Beta – Diablo Immortal on Windows PC will be in Open Beta at launch. During the beta, the entire game and all features, including cross-play and cross-progression, will be available to players. When the PC version leaves the beta all progress will be maintained.
Global Excitement – To celebrate over 30 million players worldwide pre-registering to play Diablo Immortal on iOS, Android, and Windows PC via Battle.net, all players will receive the stunning Horadrim Cosmetic Set!
More Ways to Play – On top of the hand-crafted fluid touch controls on mobile, Diablo Immortal will also have integrated controller support. For those who choose to play on PC, there will be traditional Diablo point-and-click keyboard and mouse functionality and WASD character movement for the first time in the franchise.
In-Depth Social Mechanics – Explore Sanctuary in the first MMOARPG of the Diablo franchise. Form Warbands to join forces with up to eight players to tackle targeted objectives as a team, join 150-member Clans to earn achievements, and participate in a server-wide player-versus-player faction conflict between the Shadows and Immortals. Experience the bustling hub city of Westmarch, where players will gather to refill on goods at the market, craft powerful gems and upgrade gear, or take on hunts from the bounty board.
Cycle of Strife Player-versus-Player – Players can band together to fight in a perpetual faction conflict as a member of either the Shadows or Immortals in the Cycle of Strife. The top player of the server will earn the Eternal Crown to become the leader of the Immortals and will need to defend their reign in a brutal one-versus-30 showdown against the Shadows.
Diverse Class Options – The return of six iconic classes—Barbarian, Crusader, Demon Hunter, Monk, Necromancer, and Wizard—reimagined for intuitive mobile play. Hunt for loads of Legendary gear and Set Items with game-changing affixes and bonuses that can completely switch up the playstyle for all classes.
A New Chapter in the Diablo Saga – A brand new story taking place between the events of Diablo II and Diablo III. The Lieutenant of Diablo himself, Skarn, is on a quest to gather the shattered pieces of the corrupted Worldstone and bring Sanctuary to its knees. With Tyrael presumed dead, players will partner with new and familiar characters in an expansive journey through eight unique zones to gather the shards first.
Here are some additional details on the game's PC release, launch content, and more:
Diablo Immortal for PC

It is important for us to assure you that Immortal will deliver an uncompromised AAA mobile experience when played on Windows PC. To assure this, Diablo Immortal will launch on PC in Open Beta. What this means is that you will be able to take the fight to the Burning Hell's legions on PC upon launch with full cross-play and cross-progression support. During the PC Open Beta period, we will continue to collect player feedback, make changes, and fine-tune this version of Immortal until we feel it delivers a finalized experience for all courageous adventurers. With that said, we have already made a few adjustments to ensure playing Diablo Immortal on PC feels seamless for Sanctuary's defenders.

Wherever you may go, the opportunity to vanquish demonic invaders from Sanctuary shall follow—cross-play and cross-progression features between mobile and PC will make allying with other brave adventurers a breeze regardless of platform. When the PC version leaves the Open Beta period, all the progress and purchases you've made will be maintained.

Aside from ease-of-access, we understand that comfort is key, especially for those longer gaming bouts. To provide players with more ways to play, Diablo Immortal will host controller support for both PC and mobile. Since the Closed Beta, we've modified controller functionality so adventurers will now use a free-cursor reticle controlled with a thumbstick to navigate menus. To type messages in-game, a touch screen or keyboard will be required. Providing you with the most optimal experience when using a controller to protect Sanctuary is a priority of ours, so after Diablo Immortal launches, we will continue to improve controller support.

Additionally, the W/A/S/D directional keys may be used to move around the map for PC—a first for a Diablo game. And of course, you can still use mouse and keyboard to explore, loot, and keep Hell's nightmares at bay.

For more information about Diablo Immortal on PC, visit our Making PC blog.

Hellish Launch Content

The time to assume the mantle of Barbarian, Crusader, Demon Hunter, Monk, Necromancer, or Wizard and fight for the fate of Sanctuary is closing in. As you ponder which class to walk the streets of Westmarch and beyond with, you may also be wondering—what dangers, or delightfully exciting challenges, will be available at launch?

As you progress through Immortal's story, you'll traverse eight expansive zones, each with their own hellish styles. But don't worry, the gates of Hell have been left open for the potential addition of more zones and content. While taking in the sights and felling demonic hordes in your wake, you'll stumble across dangerous live events where all battle-hungry adventurers on the same server can team up to defy the odds and claim victory over the Burning Hells. And once you're ready to tackle the Helliquary, our eight-player raid experience, you'll be delighted to know formidable foes and alluring loot await, with more to come across monthly free content updates.

Adventurers, we would like to thank you for your feedback across past Diablo Immortal Alphas and Betas. Much of which the Diablo Immortal team has used to make changes that will help provide the best playing experience possible. We cannot wait for you to heed the call on June 2!

If you want to learn more about Diablo Immortal or pre-register, check out our website, or for real-time updates, follow our official Twitter.

FAQ

Q. What are the differences between PC Open Beta and Mobile?

A: The main differences between playing Diablo Immortal on PC in Open Beta and Mobile will be seen in the UI and controller functionality. As we adjust these aspects during the PC Open Beta, they may create slight differences in the gameplay experience, but you can be assured that our intention is to replicate the same AAA experience on mobile for PC.

Q. What will happen to my progress and purchases in the PC Open Beta?

A: When the PC version leaves the Open Beta period, all the progress and purchases you've made will be maintained.

Q. What do we plan to improve for PC?

A: During the PC Open Beta period, we will continue to collect player feedback, make changes, and fine-tune Immortal for PC until we feel it delivers a finalized experience for all courageous adventurers.

Q. Which regions will Diablo Immortal become available for in late June?

A: Diablo Immortal will become available for the following Asia-Pacific regions later in June on PC and mobile: Hong Kong, Indonesia, Macao, Malaysia, The Philippines, Singapore, Taiwan, and Thailand. Diablo Immortal will also be available in Vietnam on PC only during the same time.

Q. How will cross-play and cross-progression function between PC and mobile?

A: If you start playing Diablo Immortal on PC, you will first need to create an account on Battle.net or sign into your existing account. Alternatively, if you start playing Diablo Immortal on mobile, you may either sign in to your Battle.net account or you will be supplied a guest account. If you have a Battle.net account, then you will be able to seamlessly transfer in-between playing on either platform simply by logging into your Battle.net account.
Watch a new trailer below. View a new set of screenshots at the gallery.