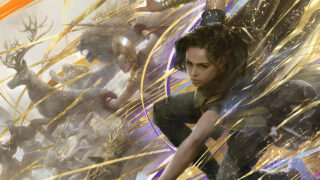 Issue 344 of Game Informer will feature a 14-page cover story on Forspoken, the publication announced.
The feature includes details on how the Forspoken project came to be, a 30-minute hands-off preview—including a never-before-seen region called Avoalet—more information about the game's world of Athia, and deeper insight into its various side activities.
The illustration on the cover of the magazine is by Forspoken art director Yuuki Matsuzawa.
Game Informer's online Forspoken hub will also publish a month-long of new articles on the game.
Outside of Forspoken, issue 344 also includes a special character reveal for the Eiyuden Chronicle: Hundred Heroes prologue game Eiyuden Chronicle: Rising, and a behind-the-scenes look at the making of Tunic.
Forspoken is due out for PlayStation 5 and PC via Steam, Epic Games Store, and Microsoft Store on October 11.
Watch Game Informer's coverage trailer below.