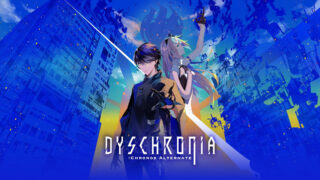 MyDearest and IzanagiGames have delayed the release of DYSCHRONIA: Chronos Alternate Episode I for Quest 2 from its previously planned spring release window to summer.
Additionally, the release date for the PC version, which was previously planned to launch alongside the Quest 2 version, is now "to be announced." A MyDearest representative told Gematsu it will likely launch in 2023.
The new release schedule is as follows:
Quest 2

Episode I – Summer 2022
Episode II – Fall 2022 and beyond
Episode III – Winter 2022 and beyond

Switch (includes all three episodes in one package)

PC VR
Along with making organizational improvements, MyDearest and IzanagiGames are working hard to improve the game's overall quality.
Here are messages from MyDearest executive producer Kento Kishigami and IzanagiGames executive producer Shinsuke Umeda on the delay:
Executive Producer Kento Kishigami (MyDearest Inc. CEO)

We've just announced that the release of DYSCHRONIA: Chronos Alternate has been changed from spring 2022 to summer 2022. I'm deeply sorry to disappoint everyone who was excited about the release being just around the corner. We were hoping to release the game as soon as we could, and on behalf of the whole team, I'd like to offer my sincere apologies. However, with the extra development time, we firmly believe we will be able to deliver a graphical and gameplay experience that far exceeds our previous releases.

We may be entering the most critical phase of the whole process, but we've bolstered our development team with the best of the best, and they are passionately working, day in, day out on DYSCHRONIA: Chronos Alternate—and are in all in a constant state of excitement at seeing just how much the game continues to evolve. We want to make sure the wait turns out to be worthwhile!

Again, please accept our sincere apologies for the delay. We ask you to wait just a little longer until we release DYSCHRONIA: CA in the best possible state this summer.

Executive Producer Shinsuke Umeda (IzanagiGames, Inc. CEO)

We've taken the decision to delay the release of DYSCHRONIA: Chronos Alternate from spring 2022, to summer of the same year. To everyone patiently waiting for the game's release, we extend our heartfelt apologies. After a wide-ranging discussion, taking into every consideration, we concluded that ultimately, prioritizing quality improvements was the best course of action. The development team is fully focused on creating and delivering an even better experience. It pains us to ask you to wait just a little longer, but we can promise that we will use this extra time productively to further improve DYSCHRONIA: Chronos Alternate.

We look forward to your continued support.