Diablo IV quarterly update details environmental art
Plus several new gameplay videos.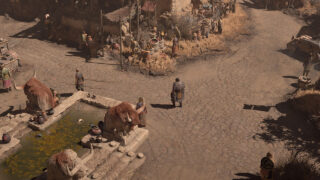 Blizzard Entertainment has published the first 2022 quarterly update on the development of Diablo IV, in which the studio discusses how they approached each of the action RPG's distinct areas and how they come together to form its "immersive environment art."
Here are the latest details, via Blizzard Entertainment:
The darkest and most grounded of the series,Diablo IV strives for believability over realism in its environments. To do this, the team has established two foundational pillars to filter concepts, locations, and implementation: "old masters" and "a return to darkness." Using these pillars, the environment has been created with a controlled use of detail and color palettes to give a distinct visual style. Weather and physically based lighting also play a larger role in creating the dangerous world of Sanctuary and allowing the atmosphere to feel more tangible.

For the first time in the series, Diablo IV features a shared open world with five captivating zones to explore. From the Dry Steppes to the Scosglen coast to the glacial ridges, each area has been carefully handcrafted by the Diablo art and design teams. Dynamic props populate many of these areas to breath a sense of life into the architecture and terrain. Interactable and breakable props frequent many environments as the team has pushed themselves to create realistic and variable destruction.

Diablo IV also features over 150 randomized dungeons utilizing a combination of handcrafted and procedural creation. To make dungeon creation effective and flexible, the team set out to create a variety of tile-sets that could be cleverly reused and paired with different props, interactives, and lighting. To give tile-sets a natural feel, the tile-set transition scenes were created as a new feature to seamlessly transition between two tile-sets within the same dungeon.
Read the full quarterly update here.
Diablo IV is in development for PlayStation 4, Xbox One, and PC.
Watch a new set of gameplay videos below.
Quarterly Update Blogs
Scosglen Coast
Orbei Monastery
Kyovashad Night
Forgotten Places in the World
Wretched Caves
Flooded Depths
Quarterly Update
Environmental Art