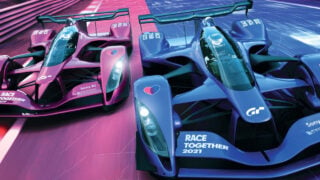 Sony AI, Polyphony Digital, and Sony Interactive Entertainment have announced "Gran Turismo Sophy," a "superhuman artificial intelligence agent that can race competitively against the top human Gran Turismo drivers."
Here is an overview of the project, via Sony AI:
Gran Turismo Sophy is an autonomous artificial intelligence agent trained utilizing a novel deep reinforcement learning platform developed in collaboration between Sony AI, Polyphony Digital, and Sony Interactive Entertainment. Each group contributed to the success of the project by bringing together expertise in fundamental artificial intelligence research and development, a hyper-realistic real world racing simulator, and infrastructure for massive scale artificial intelligence training.

Gran Turismo Sophy was trained to master the following driving skills needed to compete with the world's best championship-level drivers.

Race Car Control – Deep understanding of car dynamics, racing lines, and precision maneuvers to conquer challenging tracks.
Racing Tactics – Split-second decision-making skills in response to rapidly evolving racing situations. Gran Turismo Sophyshowed mastery of tactics including slipstream passing, crossover passes and even some defensive maneuvers such as blocking.
Racing Etiquette – Essential for fair play, Gran Turismo Sophy had to conform to highly refined, but imprecisely specified, sportsmanship rules including avoiding at-fault collisions and respecting opponent driving lines.

Sony AI and its partners built a novel deep reinforcement learning approach and platform since no existing combination of algorithms and infrastructure could solve this challenge. Mastering the complex sport of race car driving in the highly realistic driving simulator Gran Turismo Sport represents a new breakthrough in AI and as such it is published today in Nature in an article titled Outracing Champion Gran Turismo Drivers with Deep Reinforcement Learning.
Read more about Gran Turismo Sophy at the Sony AI blog, Sony Interactive Entertainment blog, or Polyphony Digital blog.
Watch the video announcement from Sony Group Corporation president and CEO Kenichiro Yoshida below.
Transcript

"Hello everyone.

"Today, I'm very excited to share the announcement of Sony AI's new game AI agent—Gran Turismo Sophy.

"We established Sony AI in April 2020 as a fundamental research and development organization to accelerate Sony's transformation into an AI powered, creative entertainment company.

"Over the past two years, researchers and engineers at Sony AI have been working closely with Polyphony Digital, the creators of Gran Turismo, and with the cloud gaming team at Sony Interactive Entertainment.

"Together they created a superhuman AI agent that can race competitively against the top human Gran Turismo drivers.

"This group collaboration, which is featured on the cover of the latest edition of Nature, is truly unique to Sony.

"With Sony being a creative entertainment company, we built this game AI agent for gamers.

"I'm also enthusiastic about this project because it demonstrates the potential for us to effectively utilize the PlayStation cloud gaming infrastructure for mass scale AI training purposes.

"Gran Turismo Sophy is the first major project announcement from Sony AI.

"I hope you are excited as I am about more news to come from Sony AI in the future – and to deliver on Sony's Purpose to fill the world with emotion, through the power of creativity and technology."