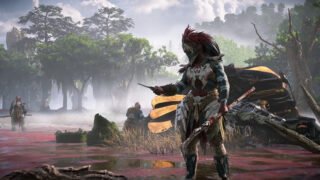 Publisher Sony Interactive Entertainment and developer Guerrilla Games have released a new trailer for Horizon Forbidden West introducing the tribes of the Forbidden West.
Protagonist Aloy will encounter tribes both strange and familiar. "From the border settlements of the Carja and Oseram, to the blighted fields of the Utaru in Plainsong, to the battle-worn Clan Lands of the Tenakth, new alliances and deadly enemies await," says narrative director Ben McCaw on PlayStation Blog.
"Join us as we take a closer look at the denizens of the frontier, their lands, and their customs—but do not expect to learn all their secrets. As Aloy will discover, the only way to unravel the mysteries of the Forbidden West is to explore it for yourself."
Horizon Forbidden West is due out for PlayStation 5 and PlayStation 4 on February 18.
Watch the trailer below.