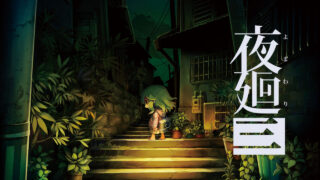 Nippon Ichi Software has announced horror action adventure game Yomawari 3 for PlayStation 4 and Switch. It will launch on April 21, 2022 in Japan for 6,980 yen (7,678 yen with tax).
The newly launched teaser website features the key visual of a girl in town at night, and a teaser trailer featuring important keywords related to the story.
Yomawari 3 is directed by Tantei Bokumetsu director Munenori Hirose, and features character design by Yu Mizokami.
Watch the teaser trailer below. View a set of artworks at the gallery.
Teaser Trailer
Artworks