Genshin Impact version 2.4 update 'Fleeting Colors in Flight' launches January 5, 2022
The newly-awakened Enkanomiya calls out for a hero.
The version 2.4 update for Genshin Impact, dubbed "Fleeting Colors in Flight," will launch on January 5, 2022, developer miHoYo announced.
Here is an overview of the update, via miHoYo:
Liyue's biggest annual festival, the Lantern Rite, will be held once again, bringing back rich rewards, the chance to obtain a free four-star Liyue character, and even the Jade Chamber that was destroyed in the past Archon Quest. In addition, the first version update of 2022 will unveil Enkanomiya, the remains of an underwater nation that has been sealed away for thousands of years beneath Inazuma.

Unlike the other islands in Inazuma, Enkanomiya is a huge floating island located beneath the ocean, constantly eroded by the Abyss. Ancestors of the people of Watatsumi Island once lived there, leaving the ruins of an ancient civilization that are older than any other relics found on land. Without day and night underground, players will find a way to use Dainichi Mikoshi, the artificial sun developed by the ancient civilization, as they delve into the puzzles and depths of Enkanomiya.

Dangerous enemies also await in the unknown new area. Living in the dark waters of Enkanomiya, Bathysmal Vishaps are cunning social predators who can hunt together and take advantage of their surroundings in combat. More enemies also show up from the Abyss. The Abyss Lector: Fathomless Flames can unleash Pyro attacks that deal delayed bursts of damage regardless if characters are shielded or not.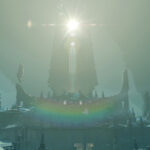 To confront the challenges, players can team up with more reliable companions. The two new playable characters joining at the start of Version 2.4 are both polearm users and reliable supports to the team. The new five-star character Shenhe not only wields the power of Cryo herself but also increases the Cryo damage dealt by her teammates. Her Elemental Skill can also boost either nearby party members' Elemental Skill and Elemental Burst damage, or their Normal, Plunging, and Charged Attack damage. The four-star character Yun Jin owns a Geo Vision, and she can buff her teammates' Normal Attacks based on her Defense and the variety of Visions in the player's party. As an opera master, Yun Jin's opera performance will be voiced by a professional Peking Opera Artist, while her daily-life dialogues will be delivered by voice actors in different languages. Players may also recruit Xiao, Ganyu, and Zhongli in their own Event Wishes during the upcoming version.

As the world of Teyvat sees its own new year arrive in Version 2.4, Liyue Harbor will once again be packed with games, stalls, vendors, and all sorts of festivities to celebrate the Lantern Rite. In this year, the Traveler can also pitch in to help Ningguang and the locals rebuild the Jade Chamber. Meanwhile, rich rewards including 10 Intertwined Fates, a chance to get one of the eight free four-star Liyue characters, and Ningguang's new outfit Orchid's Evening Gown can be obtained in the latest seasonal events. Keqing's new outfit Opulent Splendor will also be on sale with a limited-time discount.
Genshin Impact is available now for PlayStation 5, PlayStation 4, PC via client and Epic Games Store, iOS via the App Store, and Android via Google Play. A Switch version is also planned.
Watch a new trailer below. View a new set of screenshots at the gallery.
English
Japanese
Korean