CrossfireX launches February 10, 2022
New trailer premiered at The Game Awards 2021.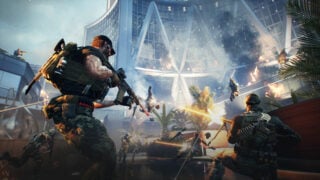 CrossfireX will launch for Xbox Series and Xbox One on February 10, 2022, publisher Smilegate announced.
Here is an overview of the game, via Smilegate:
CrossfireX delivers an intense free-to-play multiplayer first-person shooter experience spanning multiple thrilling gameplay modes, unique characters, and cinematic visuals.

CrossfireX delivers an intense first-person shooter experience where players are immersed in a sprawling global conflict between the world's two most formidable private military factions: Global Risk employs veterans of powerful armed forces who use advanced technologies to fight for order and security; Black List employs hardened mercenaries trained in guerrilla tactics who fight to destabilize oppressive regimes in the name of freedom. Choose your side and complete objective-based missions across a variety of classic and innovative modes featuring tightly crafted gameplay and cinematic visuals.
Watch a new trailer below.