Astro City Mini V announced
Includes 22 titles centered on shoot 'em ups.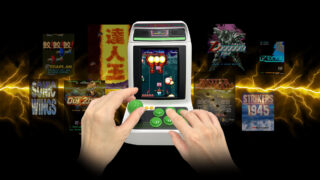 Sega Toys has announced Astro City Mini V, the second product in its Arcade Classics series following the release of the original Astro City Mini in December 2020. It will launch in summer 2022 for 19,580 yen.
Astro City Mini V is a mini reproduction of the Astro City arcade cabinet that appeared in Japanese arcades in 1993. Unlike the original Astro City Mini, Astro City Mini V uses a vertical screen and contains 22 mostly shoot 'em up games, including Out Zone, Battle Bakraid Unlimited Version, and Sorcer Striker.
The full list of titles is as follows:
Action Fighter
Aero Fighters (Sonic Wings)
Armed Police Batrider*
BATSUGUN
Battle Bakraid Unlimited Version*
Cosmo Police Galivan
Desert Breaker*
Dogyuun*
Fire Shark (Same! Same! Same!)
Grind Stormer (V・V)
Gunbird
Moon Cresta
Out Zone*
Raiden
Samurai Aces (Sengoku Ace)
Sorcer Striker (Mahou Daisakusen)
Strikers 1945
Terra Cresta
Truxton II (TATSUJIN OH)*
Wrestle War
ZAXXON
*First-time ports. Out Zone and Dogyuun are first-time ports for Japan.
Tokyo-based arcade Game Center Mikado cooperated on the development of Astro City V, providing hard-to-obtain circuit boards, selecting titles, and supervising the button layout.
Astro City V also has an HDMI connection to connect the hardware to an external display, and an "Easy Save" function that instantly saves your game with the push of a button.
Watch the announcement trailer below. Visit the official website here.