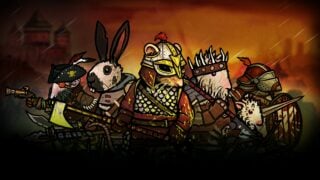 Publisher United Label and developer Odd Bug Studio have released the "Bloody Whiskers" update hand-drawn RPG adventure game Tails of Iron, which adds five new bosses, two new difficulty modes, and more.
Get the details below, via United Label.
About

"Bloody Whiskers" is a significant free expansion available on all platforms. An ancient decree of generations past, Redgi must prove his worth in an all-new questline involving a deadly tournament, to solidify his right to rule. Your tail continues…

The free expansion introduces a new post-game questline, two additional difficulty modes, five new bosses, a selection of special armours and weapons, and a secret that was perhaps better left forgotten…

With the tyrannical Greenwart now defeated, King Redgi's vast lands chime with celebration. But the recently crowned savior isn't free to rest easy on his throne just yet. As decreed by an ancient Rat tradition, the new King must prove his worth… in a deadly trial of combat.

Join Redgi as he battles to defeat the most lethal warriors from across the land to claim the key to the old King's room and discover the heinous secret that lurks within. This means that players will finally gain access to the infamous 'locked door'—something that has generated much speculation and intrigue within the player community.

The new, aptly named "Bloody Whiskers" difficulty mode pumps a double shot of bug juice in Tails of Iron, making it a far more difficult experience, designed for those with only the most iron of wills. As for those looking for a safer passage through the story, the far-less-brutal "Fairy Tail" mode is also now available, allowing players to immerse themselves in the rich narrative and lovingly crafted hand-drawn world.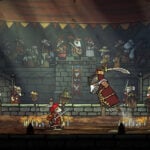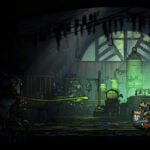 Contents

Tournament questline / five new bosses.

Captain Black Tail
Grey Ears of White Whiskers
Tournament Denis
Avor Warden of the Northern Wastes + Young Arlo
???

Two new difficulty modes.

Bloody Whiskers – As requested by our players, "Bloody Whiskers" is Tails of Iron with a double shot of bug juice—a much more difficult experience, with even deadlier enemies. Only recommended for those with the most iron of wills.
Fairy Tail – Also heavily requested, "Fairy Tail" mode is for those looking for a story-first experience. Recommended for players who want to immerse themselves in the rich world and narrative, without the hardships of warfare.

Two new rooms in the Keep.

King's Chambers – Finally! Find out what's beyond the locked door…
Top of the Tower – "I can't possibly commit to parchment what I've done. Should my sons find out…" – King Rattus

Six new weapon skins.
Five new armor sets.
PlayStation 5, Xbox Series, PlayStation 4, Xbox One, and Switch versions get the Halloween outfit and weapon skins added with this update.
Tails of Iron is available now for PlayStation 5, Xbox Series, PlayStation 4, Xbox One, Switch, and PC via Steam.
Watch a new trailer below. View a new set of screenshots at the gallery.