Elden Ring closed network test hands-on previews, gameplay
Tons of footage ahead of the November 12 test.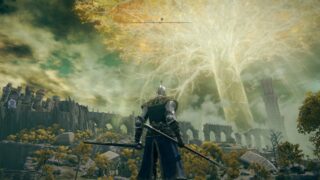 Media outlets have gone up with hands-on previews of the Elden Ring closed network test, which will begin on November 12.
Previews are available at the following links: 4Gamer.net (Japanese), Dengeki Online (Japanese), Eurogamer, Famitsu (Japanese), GameSpot, GamesRadar, GAME Watch (Japanese), IGN, IGN Japan (Japanese), PC Gamer, PCGamesN, PlayStation Blog, Polygon, VG247, and The Washington Post.
Elden Ring is due out for PlayStation 5, Xbox Series, PlayStation 4, Xbox One, and PC via Steam on February 25, 2022.
Watch the footage below.
4Gamer.net
Dengeki Online
Easy Allies
Eurogamer
Famitsu
Game Informer
GameSpot
GamesRadar
IGN
IGN Japan
Kinda Funny Games
MKIceandFire
PC Gamer
PCGamesN
VaatiVidya
VG247