The Dark Pictures Anthology: House of Ashes 'Character Introduction' trailer
Meet Rachel, Eric, Nick, Jason, and Salim.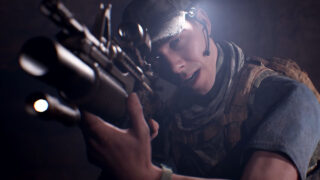 Publisher Bandai Namco Entertainment and developer Supermassive Games have released a new trailer for The Dark Pictures Anthology: House of Ashes introducing the game's characters.
Here is an overview of the game and its characters, via its Steam page:
Where Has Fate Placed You This Time?

The Dark Pictures Anthology is a series of standalone, cinematic branching horror games where the decisions you make in the game determine the story and the outcome you receive.

House of Ashes is the third game in the series.

In House of Ashes, at the close of the Iraq War, Special Forces hunting for weapons of mass destruction unearth something far deadlier – a buried Sumerian temple containing a nest of unearthly creatures. To survive the night below, they must forge a brotherhood with their enemies from the world above.

Which Path Will You Choose?

Navigate the Underworld and Escape a Terrifying Threat – Fight your way out of a buried Sumerian temple against hordes of deadly monsters that have claimed you as prey.
The Enemy of Your Enemy is Your Friend – This time, your crew is composed of two opposing factions that rarely see eye to eye. Can you put aside your character's rivalries to fight together as one?
Don't Play Alone – The two critically acclaimed multiplayer modes are back. Share your story online with a friend or aim for safety in numbers through the offline five-player pass-the-pad mode.

Who Will Live, Who Will Die?

Rachel King – CIA Field Officer. Commanding. Abrasive.
Eric King – Lieutenant Colonel USAF. Rational. Insecure.
Nick Kay – Sergeant USMC Force Recon. Defensive. Romantic.
Jason Kolchek – 1st Lieutenant USMC Force Recon. Confident. Intolerant.
Salim Othman – Lieutenant Iraqi Ground Forces. Stubborn. Courageous.
The Dark Pictures Anthology: House of Ashes is due out for PlayStation 5, Xbox Series, PlayStation 4, Xbox One, and PC via Steam on October 22.
Watch the trailer below.