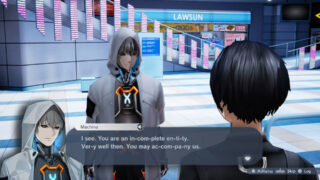 Publisher NIS America has released a new trailer for The Caligula Effect 2 introducing the game's characters.
The trailer introduces the following characters:
Main Characters

χ – Like Regret, χ is a virtuadoll, but that's where their similarities end. χ is the antithesis of Regret, and vehemently endeavors to destroy Redo, the false world. However, because she lacks the power to do so on her own, she relies on a citizen of Redo whose memories are returning, otherwise known as the Protagonist. Since χ is merely a prototype, her understanding of humankind is rudimentary at best.
Protagonist (voiced by Tatsumaru Tachibana / You Taichi) – A second-year at Tatefushi Academy High School, and Club President of the eponymous second-generation Go-Home Club. After being chosen by χ to be her Soul Partner, the Protagonist now shares flesh and blood with the sprightly virtuadoll.
Gin Noto (voiced by Aoi Ichikawa) – A fellow second-year at Tatefushi Academy and the Protagonist's classmate. Fashionable, amiable, and easygoing, Gin has many friends of all genders, and cares deeply for all of them. When not spending time with his pals, you can often find him window-shopping.
Shota Tsurumaki (voiced by Kent Ito) – Another second-year Tatefushi Academy student, and the strict, law-abiding chairman of the school's disciplinary committee. His selflessness and his strong sense of duty and justice is marred by his inability to make decisions on the spot. In lieu of such, Shota has a proclivity for the democratic solution–calling a vote.
Ryuto Tsukishima (voiced by Koki Ichiyama) – A precocious third-year student at Tatefushi Academy Middle School who's often touted as a boy genius. People often mistake his aloof, self-assured demeanor as misanthropic, despite his best intentions. Still, due to his candid nature, he often finds himself in confrontations with peers unable to see past his harsh criticisms.
Kobato Kazamatsuri (voiced by Yuto Uemura) – A third-year at Tatefushi Academy High School whose character is as shallow as his appearance. Notorious across campus as a frivolous philanderer, he is wholly unperturbed by his public image. Despite almost all of his many brazen advances falling short, this has earned him a sort of clout with his male peers. Conversely, his reputation with females is met with wariness. Outside his lecherous enterprises, he gives little thought or effort to anything else, especially when it involves teamwork.
Kiriko Miyasako (voiced by Yume Miyamoto) – A first-year at Tatefushi Academy High School. Kiriko's short, blonde hair sets her apart from other students to the point of deterring other students when coupled with her cynical bon mots. In the Go-Home Club, however, she boasts the qualities of a sensible leader, a trait she is less than willing to embrace.
Sasara Amiki (voiced by Sumire Morohoshi) _ A third-year at Tatefushi Academy High School who is as lovely as she is serene and warm. Something of a scatterbrain, the other Go-Home Club members find Sasara's difficult-to-follow train of thought and delayed reactions to be endearing. Her adoration for her friends in the Go-Home Club is matched by none, willing to put herself in harm's way to protect them.
Niko Komamura (voiced by Hiyori Kono) – A first-year Tatefushi Academy High School student, Niko greets all she encounters with a radiant smile and glittering eyes. It's difficult not to be friends with her after the first conversation. Just don't explore the nitty-gritty of sophisticated matters, as she might not be able to concentrate on one thing for too long.
Marie Amabuki (voiced by Mai FUchigami) – Marie is a classmate of the Protagonist at Tatefushi Academy, and has it all: beauty, refinement, and a good heart. Unsurprisingly, she was unanimously nominated for the position of Student Council President in her second year at school, a testament to the positive impression she has on everyone around her. Since she sits next to you in class, she's inclined to give you special treatment.
Regret (voiced by Arisa Kori) – A virtuadoll whose origins are shrouded in mystery. In fact, her fans perceive this secrecy as part of her mystique, which, combined with her enthralling voice, lends itself to her overwhelming popularity. With this influence at her disposal, Regret constructs a virtual utopia where its denizens live free from painful memories in their real lives, whether they want to or not.

Obbligato Musicians

Machina (voiced by Shunichi Toki) – An Obbligato Musician who requested Regret to grant him a mechanized form. His loyalty to Regret is resolute, acquiescing to her every command without hesitation. He routinely patrols Redo to enforce public order.
Pandora (voiced by Tomoyo Kurosawa) – One of the Obbligato Musicians. A woman of few words, even fewer things are capable of disrupting her composure. She prefers devoting her attention to her beloved plants over human interaction. When she's not tending to the botanical garden, she's quietly composing music in her favorite spot, which also happens to be in the garden.
MU-kun (voiced by Taku Yashiro) – Another Obbligato Musician, MU-kun is iconic for his eccentric outfit and hair. He has stolen the hearts of younger audiences with his music, fashion sense, unorthodox showmanship, and his self-proclaimed ability to communicate with the cosmos.
#QP (voiced by Inori Minase) – One of the Obbligato Musicians and classmate of the Protagonist. Keeping her identity as a Musician hidden, she attends school every day in plain sight. She's always scouring the campus for her next fling, chatting up any guy she happens upon. Her one and only reason for concealing her identity as a Musician is because she fears it would intimidate and dissuade potential suitors.
Doktor (voiced by Kazuki Kato) – One of the Obbligato Musicians, and a doctor at a hospital on the outskirts of Okitama City. He's often sighted pushing Kranke around in a wheelchair. Poised and brusque, he lends his talents, both medical and musical, for the prosperity of Redo, although he prefers to limit his interactions with the other Musicians.
Kranke (voiced by Yuuki Takada) – A third-year at Tatefushi Academy, and an Obbligato Musician. Kranke is a paraplegic who can only traverse via wheelchair with the aid of Doktor. Nobody can tell what she's thinking due to her distant disposition and her empty smile. The music she writes is dreary and dark, which is unexpected, given her ephemeral personality. Even so, the droves of fans are a clear indication that her peculiar perspective profoundly embedded in her music has smitten the world.
Kudan (voiced by Mariya Ise) – The PR mastermind of the Obbligato Musicians responsible for the marketing and public image of Regret and the Musicians. Her innate ability to fabricate lies and manipulate people is as habitual to her as breathing, and her oratory talents are a valuable asset to Regret's otherwise soft-spoken personality. She enjoys quoting well-known people, historical and fictitious alike.
Bluffman (voiced by Takehito Koyasu) – The kingpin of the Obbligato Musicians, and a man of mystery who masks his face. He is Regret's second in command, acting as both her advisor and her manager. In fact, Bluffman recruited all the Musicians in lieu of the taciturn virtuadoll. To top it off, he's also a veteran songwriter held in high esteem by the rest of the younger Musicians. To him, Regret is a flawless entity, superior in every way to every virtuadoll that has ever existed. This loyalty is the foundation for his staunch modus operandi.
The Caligula Effect 2 launched for PlayStation 4 and Switch on June 24 in Japan, and is due out on October 19 in North America and October 22 in Europe.
Watch the trailer below.