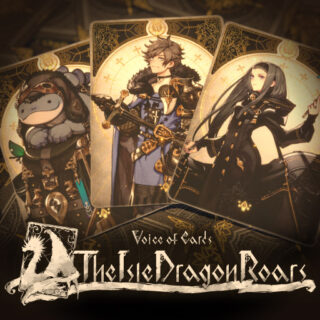 Square Enix has announced Voice of Cards: The Isle Dragon Roars, a new RPG featuring an "enchanting story completely depicted by cards" from the creative minds behind the NieR and Drakengard series, including creative director Yoko Taro.
"This new title will spark players imagination and open their minds to a different way of storytelling as the narrative unfolds," Square Enix teased in a press release.
According to Yoko Taro, Voice of Cards: The Isle Dragon Roars is not a Drakengard game, nor a social game.
The game's staff includes:
Creative Director: Yoko Taro (Drakengard series, NieR series)
Executive Producer: Yosuke Saito (NieR series)
Music Director: Keiichi Okabe (Drakengard 3, NieR series)
Character Designer: Kimihiko Fujisaka (Drakengard series)
Platforms and a release date were not announced, but the existence of Voice of Cards: The Isle Dragon Roars first leaked in early August via a PlayStation Network listing for PlayStation 4. Other platforms remain to be confirmed. (Update 12:20 p.m.: A SteamDB page has also surfaced.)
Watch the teaser trailer below.