Edens Zero: Pocket Galaxy for iOS, Android pre-registration now available
The Edens Zero top-down action RPG for mobile.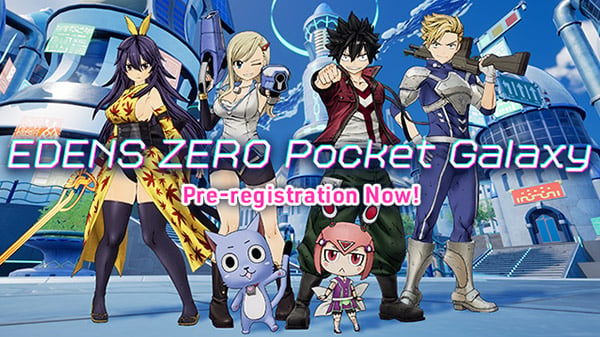 Konami has opened pre-registration for Edens Zero: Pocket Galaxy, its September 2020-announced top-down action RPG for iOS and Android.
Additionally, the company announced a TV commercial for the game set to air on September 11 will be available for advance viewing on the Edens Zero Channel on YouTube today at 18:00 JST.
In Edens Zero: Pocket Galaxy, players make their way through dungeons while combining skills and equipment in pursuit of their ideal build. In addition to a story that faithfully reproduces many scenes from the manga, players can also enjoy original stories. There are also flashy action scenes when characters use their "Ether Gear" abilities. Plus, there are over 100 costumes, including original costumes by manga author Hiro Mashima.
Get the pre-registration details below, via the official website.
Fans can pre-register through the following formats:

Register a valid email address on the official website.
Visit the official Twitter account (@EDENSZERO_PJ) for pre-registration details.
Visit the official YouTube channel (Edens Zero Channel) for pre-registration details.

In-game items will be unveiled for every pre-registration milestone!

Over 100,000 registrations: Three skip tickets (item to skip and clear quests).
Over 200,000 registrations: One Iridescent Material (item to use for Cosmetics Crafting).
Over 300,000 registrations: 100 Ether Drive (ED) (100 ED is used for "Item Drop Reward +10x" boost at event dungeon).

Everyone who starts the game at the launch timing will receive an in-game "Cyber Costume" item as a free gift.

All users who started the game at the launch timing are eligible.
Distribution might be ended without notice.

Campaign Overview

This is a campaign to give players rewards usable in-game when the app is released, based on the number of pre-registrations.

Following the release of the app, rewards are planned to be made available through players' in-app Gift Boxes. If the method of receiving these rewards changes, the official site, etc. will be updated accordingly.

Rewards may be subject to change without notice. Changes to rewards will be announced separately on the official site, etc.
View a new set of screenshots at the gallery.