Stubbs the Zombie in Rebel Without a Pulse physical edition announced
Also seemingly coming to PlayStation 5 and Xbox Series.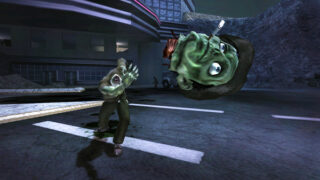 THQ Nordic, in collaboration with Aspyr Media, will release a physical edition of Stubbs the Zombie in Rebel Without a Pulse at retail, the companies announced.
The game will cost $19.99 / €19.99 / £15.99 for PlayStation 5, Xbox Series, PlayStation 4, and Xbox One, and $29.99 / €29.99 / £25.99 for Switch.
This is also first mention of PlayStation 5 and Xbox Series versions, but further details were not announced.
A release date for the physical edition was not announced.
Here is an overview of the game, via THQ Nordic:
About

Be the Zombie. Kick Ass and Take Brains.

It's 1959 and the city of Punchbowl, PA, is a beacon of progress and ideal living. As Stubbs the Zombie, you'll show the living that law and order are no match for a dead man on a mission. Your boyfriend's back, Maggie, and Punchbowl is gonna be in trouble!

Key Features

Eat Brains – Chomp on the living and replenish your bodily arsenal of zombie sputum, gut grenades, and the stunning unholy flatulence.
Build Your Zombie Horde – Convert your enemies into undead allies and lead a zombie assault on the living.
Possess Punchbowl's Population – Clamp your severed hand to a barbershop quartet singer's head and raygun away.
Bring Civilization to its Knees – Show the retro-futuristic city of Punchbowl, Pennsylvania that they can't escape the past.
Stubbs and Chill – Invite a friend to play as Grubbs for classic couch cooperative hijinks. (Friend not included).