Rumor: Xenoblade Chronicles 3 nearing final stages of development
Could launch by first half of 2022, according to report.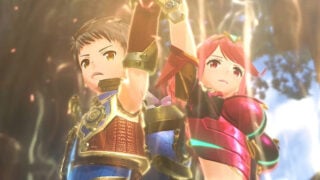 A third numbered Xenoblade Chronicles game is nearing the final stages of development at Monolith Soft as a sequel to Xenoblade Chronicles 2, according to a Fanbyte report by former Game Informer senior editor Imran Khan, citing unnamed sources.
The game was reportedly set to be announced earlier this year and released this winter, but development and hardware optimization suffered as a result of the ongoing COVID-19 pandemic. And while it may still be announced before the end of 2021, its release may be postponed until the first half of 2022 at earliest. It is said to be aiming to feature more character models on screen at once than any previous entry, including both playable characters and enemies.
The report comes following a slip of the tongue from Jenna Coleman, who voiced Melia in the first Xenoblade Chronicles, during a video chat with YouTube channel Din's Meteorite back in June, which the Xenoblade Chronicles fanbase only recently spotted.
Coleman said, "God, when was the first game? Ten years ago? It was a long time ago—I did it pre-Doctor Who days, and when they did they second one, they asked me to come back. And I think they're going to do another." She paused. "Common knowledge? Don't know. Yeah, I think they're going to do another. Not sure if I'm allowed to say that."
Xenoblade Chronicles 2 launched for Switch on December 1, 2017. The expansion Xenoblade Chronicles 2: Torna – The Golden Country, which also saw a standalone release, followed on September 14, 2018.