Neko Atsume VR now available in North America
Cat collecting game first launched in 2018 in Japan.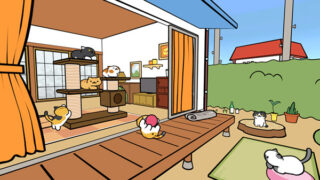 Hit-Point has released cat collecting game Neko Atsume VR for PlayStation 4 via PlayStation Store in North America for $16.99.
The game, which supports PlayStation VR but does not require it, first launched in May 2018 in Japan. The surprise localization comes over three years after its initial release.
Here is an overview of the game, via PlayStation Store:
Playing Neko Atsume VR is as easy as one, two… and that's it!

Step 1: Place playthings and snacks in your yard.

Step 2: Wait for cats to visit!

Attract cats with food and then watch them romp with your toys!

More than 20 varieties of cats—white and black, tabby and calico—might stop by.

Each visitor is logged in your Catbook. Become a master kitty collector and fill it up! You can even make albums of your cat photos.

PlayStation VR compatible. With PlayStation VR, you can play with toys together with cat. Let's spend a comfortable Neko Atsume life in a virtual realty space in a little time every day!