Tales of Arise – 'Spirit of Adventure' and 'Lifestyle Feature' trailers, side activities gameplay [Update: Details and screenshots]
Fishing, camping, cooking, and more.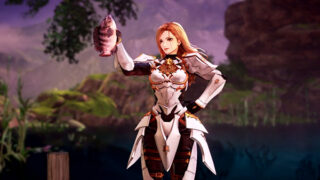 Bandai Namco has released new trailers for Tales of Arise dubbed "Spirit of Adventure" and "Lifestyle Feature," as well as premiered first gameplay footage of side activities such as fishing, camping, cooking, and more.
Tales of Arise is due out for PlayStation 5, Xbox Series, PlayStation 4, Xbox One, and PC via Steam on September 10 worldwide. It will launch for consoles on September 9 in Japan.
Watch the footage below.
Spirit of Adventure Trailer
Lifestyle Feature Trailer
English
Japanese
Motoi Sakuraba Special Interview
English
Japanese
Field Detour Systems Overview Live Stream Archive
19:40 to 25:30 – Fishing Gameplay
26:20 to 30:48 – Camp and Cooking Gameplay
31:40 to 33:12 – Battle Gameplay
34:20 to 36:20 – Looking for an Owl Gameplay
37:30 to 39:30 – Artifact Gameplay
46:17 to 49:48 – Costume Premium Pack Slideshow
Update 07/30/21 at 2:45 a.m.: Get the latest information on side activities and more below. View a new set of screenshots at the gallery.
Experience the Journey with Party Members in Tales of Series Style

The Tales of game experience is still alive and well in Tales of Arise, with both seriousness and comicality.

On their epic journey to free the oppressed planet Dahna of Rena's domination, Alphen, Shionne and their comrades will visit beautiful environments, meet formidable foes and experience various activities, like cooking, farming and fishing, all the while creating a unique bonds amongst themselves.

Character Conversations and Quests

Tales of is a game to enjoy the characters. In addition to the main scenarios, you can get to enjoy different experiences with characters when you roam around the map.

In Tales of Arise, enjoy the development of characters, as you uncover the characters' emotions and fates portrayed in different form of encounters—Event Movies, Animations, Skits, and Short Chats.

Event Movies – Full-length CG movies drawn in accordance with the main scenario. Using the "Atmospheric Shader" developed for this title and facial CG to express the subtleties of the characters' emotions.
Animation Cutscenes – Animation inserted in important scenes. Animated cutscenes is done by the popular animation studio Ufotable and is the longest animation yet in the Tales of series.
Skits – Conversation between characters during your journey. Skits can be triggered at every stage of the journey, including the progression of scenarios and quests, reaching new fields, encampments, and cooking session.
Short Chats – Conversations during exploration and battle. Conversations can also occur at the end of battles and while moving through towns and fields.

One of the features of the Tales of series, is the "Skit" system that allows the party to enjoy interesting conversations while exploring the field.

Learn new aspects about individual characters, get a glimpse of the interesting side of each character from various perspective not seen in the main storyline alone and establish deeper bonds.

The evolved feature in Tales of Arise includes showcasing characters' expression in 3D. Costumes and attachments equipped, as well as location and in-game time of the day, will also be reflected in the "Skit" cutscenes to enhance your feeling of real-time travelling with the whole party.

Meet People Through Sub-Quests, and Learn More About Characters' Growth and Charms!

During your adventures, Alphen and his friends will encounter people with various challenges. By solving their problems, you can obtain weapons, items, and even cooking recipes.

On completing quests, you will be able to see characters' personalities and emotional changes from a different angle than the main story. Some of the quests will require you to confront powerful enemies as well.

Deepen Your Bonds Through Communication

On the field, there is "camp," which not only allows you to recover (HP and CP), but also lets you engage deeper communication with party members. At the camping spot, you can look back at the skits that have occurred along the way. By choosing a character to share a conversation with before going to sleep, you can also see a new side of yourself too.

The Series' Familiar "Cooking" System

Enjoy the familiar quirky dishes that comes with each character's own specialties! By entrusting them with their specialties, you may trigger special cutscenes!

Create classic Tales of dishes like Mabo Curry!
Entrust characters with their specialties to trigger special cutscenes!
In addition, there are also chef-style outfits to get you in the cooking mood! Wearing these costumes and playing skits related to cooking doubles the fun!

Dishes and Recipes

You can cook by learning recipes and using ingredients to recreate them. By eating food, you can gain various buffs that will be useful for your battles! There are different buffs that comes with different recipes. Choose the recipe that best suits the map you want to traverse and the enemies you want to defeat!

Develop a Farm Where You Can Harvest Food

If you can manage the ingredients properly, you will be able to create a wider variety of dishes along the way. By developing farm and gathering a wealth of ingredients, you can cook a variety of dishes and use the additional buffs to your advantage in battles against powerful enemies.

A Variety of Mini-Games and Sub-Quests to Discover New Aspects of the Party Members

Look for Hootle's friends hiding around every corner! Owls of different colors, shapes and sizes are hidden throughout the town and field. By finding the owls, you can return them to the Owl Village and obtain attachments.

Enjoy fishing and expand your collection! You can go fishing at the waterfront during your adventures. Kisara in particular, is an avid fisherman. Other than getting unique fishing results at each fishing spot, you can also record your catch and collect achievements!

Besides fishing, there is also artifacts collection you can do with Dohalim. Collecting artifacts is one of his hobbies, for he has a deep knowledge in arts. By collecting artifacts that drops in various locations, Dohalim can share his knowledge and insights. Above being just a collection, artifacts can also be worn to obtain a variety of buffs to help you in battle.