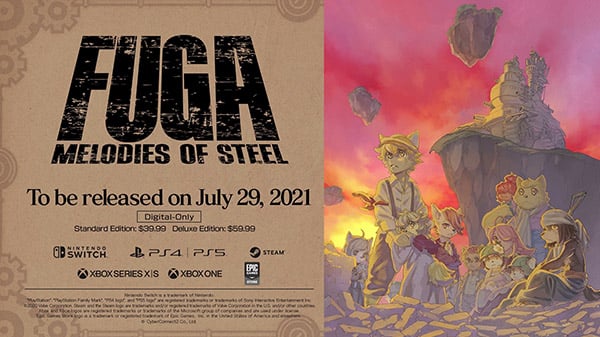 Little Tail Bronx series RPG Fuga: Melodies of Steel will launch digitally for PlayStation 5, Xbox Series, PlayStation 4, Xbox One, Switch, and PC via Steam and the Epic Games Store on July 29 for $39.99, developer CyberConnect2 announced. It will support Japanese and French voice-overs, and Japanese, English, French, Spanish, Italian, Traditional Chinese, and Simplified Chinese subtitle options.
A Deluxe Edition will also be available for $59.99, which includes the following additional content:
Downloadable Items

Digital art book (80 pages)
Digital soundtrack (15 tracks)

In-Game Bonus Items

Swimwear costumes for all characters (can be used during the intermission and expedition)
Dummy Soul for the Soul Cannon (can use the Soul Cannon one time without sacrificing a character)
Set of items
Here is an overview of the game, via CyberConnect2:
About

One fateful night, a peaceful village is thrown into the flames of war. Determined to save their families captured by the Berman Army, a group of children hops aboard a giant tank, the Taranis. They make their way through the country, fighting against the Berman Army as they search for their families.

Fuga: Melodies of Steel is the newest installment in the Little Tail Bronx series such as previous titles like Tail Concerto and Solatorobo: Red the Hunter, which are set within same world inhabited by Caninu and Felineko.

Story

"We have to fight! If we don't, everyone we love will be taken away!"

The story takes place on a floating continent, an archipelago of both small and large floating islands where two species known as Caninu and Felineko live.

Malt, a young Caninu shepherd, lives with his little sister Mei in Petit Mona, a little village located in the Free Lands of Gasco.

Over the course of a single night, the Berman Empire invades and throws the village into the flames of war.

Malt and his friends manage to get away thanks to their families who were subsequently captured and taken away.

Escaping to a mountain cave, Malt and the other children discover a gigantic tank called the Taranis. They jump aboard, heading out on a journey to save their families!
Watch a new set of videos below. Visit the official website here.
Trailer
English
Japanese
Animated Comic: How It All Began
Fuga: Comedies of Steel (Vol. 1) – I'm Malt