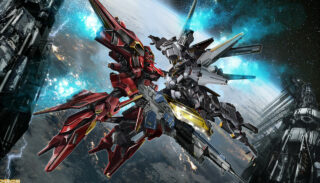 Original 05/25/21 at 6:54 a.m.: Relayer, the newly announced strategy RPG from Kadokawa Games, will be available for PlayStation 5 and PlayStation 4, the latest issue of Weekly Famitsu reveals. A release date was not announced.
A new space opera themed after space, mechs, and Greek mythology, Weekly Famitsu has a first look at the unique characters that appear in the game's "deep story in which many powers collide," as well as a look at the turn-based battle system in which the player pilots robots called "Stella Gear."
Thanks, Famitsu.
Update 05/26/21 at 2:27 a.m.: The latest issue of Weekly Famitsu has first information on Relayer, the newly announced "new age space opera" strategy RPG from Kadokawa Games for PlayStation 5 and PlayStation 4.
The game is set in Stardate 2049. Humanity has encountered a mysterious extraterrestrial life=form called "Relayer." And at the same time, mankind's "Star Child" appeared, awakened to supernatural abilities. Relayer, Earth's Government, GTLabo, and three major military companies mapped out the game's main powers.
Relayer – An extraterrestrial life-form that plans to destroy the universe. It appears human. There are 11 gods under Zeus, and 12 masters beneath them.
Stella Gear – The robots players pilot. There are four types: Assault, Tank, Sniper, and Scout.
Battle – Turn-based strategy battles. You can perform cooperative attacks with ally units, as well as special moves.
The protagonist of Relayer is the Star Child Terra. Over 30 major characters will appear, and each will be explored through sub-scenarios and so on.
The magazine also has an interview with producer and director Yoshimi Yasuda. Here are the notable tidbits:
"Development is moving forward on PlayStation 5. We're currently developing without thinking about PlayStation 4, so it will probably give us a hard time later. (Laughs.)"
"God Wars is a tactical RPG, but this is a strategy RPG with a low threshold and a wide range of difficulty."
"For example, we do not plan to implement terrain effects, elevation, or unit direction effects. But we will not neglect strategy."
"There are some bosses where the difference in size between ally Stella Gear and the enemy's build are equivalent to a human versus Mount Fuji."
"There are plans for a trilogy."
Thanks, Ryokutya2089.