Dragon Quest 35th Anniversary Special live stream set for May 27
Upcoming series lineup to be announced.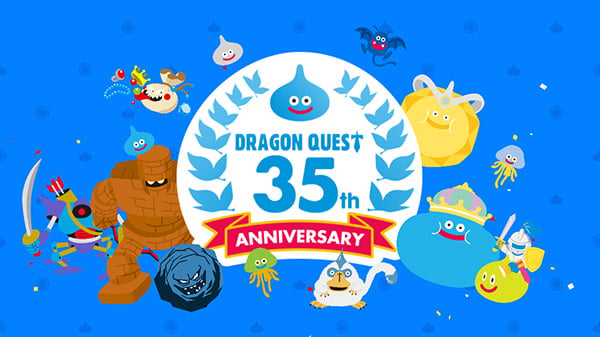 Square Enix will host the "Dragon Quest 35th Anniversary Special" live stream on May 27 at 12:00 JST (Japanese) / 12:30 JST (English), the company announced. You will be able to watch it on YouTube in English, Japanese, Chinese, and Korean.
"May 27th is Dragon Quest Day, and to celebrate the 35th anniversary of the series, we're bringing you a special broadcast to showcase all of the latest information about what's going on—and what's yet to come—in the world of Dragon Quest," Square Enix said.
"For the first time in Dragon Quest history, the show will feature live interpretation from Japanese, so that our international fans can stay up-to-date with developments in the Dragon Quest series, too. Don't miss it, or you'll miss out!"
The broadcast will consist of the following two parts:
Part 1: Dragon Quest Day Latest News

Freelance announcer Natsumi Uga delivers the latest information on Dragon Quest series titles currently in operation and 35th anniversary merchandise, including:

Dragon Quest X Online
Dragon Quest Walk
Dragon Quest Tact
Dragon Quest of the Stars
Dragon Quest Monsters: Super Light
Dragon Quest Rivals Ace
Dragon Quest: The Adventure of Dai series
Dragon Quest series official goods
Dragon Quest: Great Demon Lord Zoma and the Island of Beginnings attraction

Part 2: Dragon Quest Series Latest Lineup Introduction

A talk show hosted by actor JOY with Dragon Quest creator and game designer Yuji Horii to announce the newest lineup in the Dragon Quest series.
The following Dragon Quest games are known to be underway:
The first entry in the Dragon Quest series launched for Famicom on May 27, 1986 in Japan.