Wan Nyan Pet Shop: Kawaii Pet to Fureau Mainichi announced for Switch
Due out on July 15 in Japan.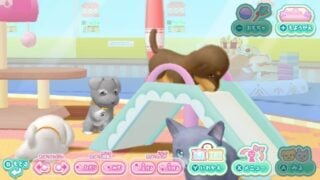 Nippon Columbia has announced Wan Nyan Pet Shop: Kawaii Pet to Fureau Mainichi for Switch. It will launch on July 15 in Japan for 5,280 yen.
Here is a brief overview of the game, via retail listings:
About

Become an employee at a popular, stylish pet shop in town, take care of the little dogs and cats, and sell pet products while enjoying every day interacting with the adorable pets.

Key Features

Interact with the Dogs and Cats in the Play Room – The pet shop has a large play room where you can train and play with the dogs and cats. Raise your pets comfortably without having to lock them in small cages.
A Motivating Challenge System – As an employee of the pet shop, the player will have to work little by little towards a goal each day. By successfully clearing the goals you are challenged with, you will obtain items to put in the play room, accessories for the dogs and cats, and more.
20 Fun Minigames – Experience a total of 20 jobs as fun minigames, from taking care of the dogs and cats in areas such as trimming, shampooing, and brushing their teeth, to shop-related work like scanning barcodes at the register and applying price tags to products.
18 Types of Popular Dogs and Cats – A total of 18 popular dogs and cats appear, including the American Shorthair, Munchkin, and Scottish Fold cat breeds, and the poodle, chihuahua, and dachshund dog breeds.
Take Good Care of the Little Dogs and Cats So They Can Meet their Fated Owner – The goal of a pet shop employee is to take good care of the adorable dogs and cats so that they may one day meet their owner. Look after them well and send them off to a happy future.