Sony Interactive Entertainment to publish original "AAA multiplayer game" developed by Firewalk Studios
A ProbablyMonsters studio formed of Destiny and Halo veterans.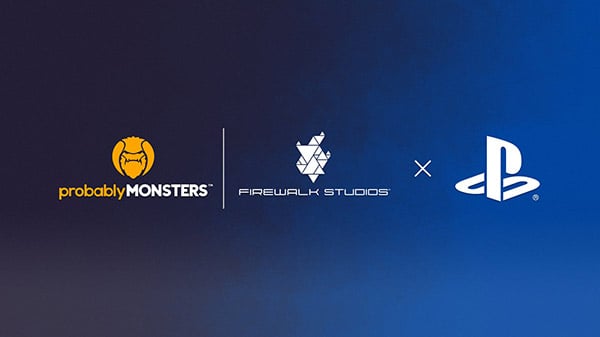 Sony Interactive Entertainment has entered into an agreement to act as the exclusive publishing partner for an original "AAA multiplayer game" developed by ProbablyMonsters studio Firewalk Studios, the companies announced.
Here is an overview of the studio, via ProbablyMonsters:
Founded in 2018, Firewalk Studios is led by Tony Hsu (studio head, previously general manager and senior vice president of Destiny at Activision), Ryan Ellis (game director, previously creative director at Bungie) and Elena Siegman (executive producer, previously at Harmonix, Irrational Games, and Bungie). The team includes a deep roster of highly talented developers who have helped deliver top-selling, culturally impactful titles, including the Destiny franchise, where all three leads worked successfully together on both development and publishing, as well as Call of Duty, Apex Legends, Mass Effect, and Halo. This collected expertise allows this team to focus on delivering a rich multiplayer game experience rooted in great core gameplay and inspired art. Firewalk continues to recruit top talent for its team, which is built on collaboration, inclusion, and respect.
And here are a series of quotes from the relevant parties:
Hermen Hulst, Head of PlayStation Studios at Sony Interactive Entertainment

"ProbablyMonsters has created an extraordinary team at Firewalk Studios with remarkable industry talent, and their original multiplayer game will be an exciting addition to our portfolio. We're committed to bringing a wide range of diverse gaming experiences to our platform, and we're thrilled to partner with a visionary studio like Firewalk to bring their truly ambitious experience to life."

Harold Ryan, CEO and founder of ProbablyMonsters

"I am proud of the sustainable model we have created for our AAA studios to grow and flourish. Firewalk Studios' strategic partnership with PlayStation is a great match for the studio's world-class pedigree and creative vision."

Tony Hsu, Studio Head at Firewalk Studios

"Our goal at Firewalk Studios is to create awesome shared experiences through multiplayer games. This goal is supported both by the world-class operations team at ProbablyMonsters and by a team at Sony Interactive Entertainment who love games and are huge supporters of our project and studio."
In a PlayStation Blog post, Firewalk Studios studio head Tony Hsu added, "We're already hard at work on development and have been having a ton of fun playing our game as a team. In fact, while we continued to grow our team during this challenging last year, it was our daily online playtests that provided the most consistent point of joy and connection for our crew. The fun and laughter of playing together brought us closer, even if we were physically apart. Our goal is to be able to deliver that same joy to gamers and we can't wait to share what we've been working on when the time is right."