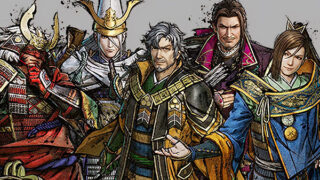 Publisher Koei Tecmo and developer Omega Force have released the latest information and screenshots for Samurai Warriors 5, introducing newly confirmed playable characters Shingen Takeda, Kenshin Uesugi, Motonari Mori, Hisahide Matsunaga, and Takakage Kobayakawa, as well as announcing that the third official live stream for the game.
Get the details below.
Shingen Takeda (voiced by Kenji Hamada)

The great daimyo headquartered in Kai.

A solitary hero, infamously known as "The Tiger of Kai." The leader of a powerful army of horseback riders, he fights to conquer these turbulent times. He believes that the world cannot be brought under control, and despises Kenshin Uesugi and his belief in his "path of righteousness."

Kenshin Uesugi (voiced by Kazuyuki Okitsu)

The great daimyo headquartered in Echigo.

The noble courageous general referred to as the "God of War." In order to advocate "the path of righteousness" that he believes in, he works to expand his noble war to every region. The way he pursues his own path in life would have a large impact on Mitsuhide as well.

Motonari Mori (voiced by Hideo Ishikawa)

The great daimyo headquartered in Aki.

A cool-headed veteran and a resourceful general. He aims to take advantage of the country's disorder and freely plans his schemes. He went from being a regional feudal lord to a powerful figure who rules the entire Chūgoku region of Japan. In the battle with the Amago family, Motonari encounters Shikanosuke Yamanaka.

Hisahide Matsunaga (voiced by Kouji Ishii)

The great daimyo of Yamato.

While he has the demeanor of a gentleman, he would not balk at the idea of slaying a shogun if it was in the pursuit of creating his ideal world. He views Mitsuhide as a person of exceptional talent who is fit to be a part of the ideal world he believes in.

Takakage Kobayakawa (voiced by Hiroshi Okamoto)

The third son of Motonari Mori.

A proud tactician who holds the future of the Mori family on his shoulders. Fearless in youth, he never distrusts his wit and intelligence, and has full confidence in everything that he does. During his battle with the Amago family, he often clashed with Shikanosuke.
The third official live stream for Samurai Warriors 5 will take place on April 23 at 21:00 JST. You will be able to watch it on YouTube.
The live stream will feature the announcement of the final remaining playable characters, the debut of the second official trailer, and live gameplay. Presenters include MC Eiji Takemoto (Katsuie Shibata voice actor), and guests Kenjiro Tsuda (??? voice actor) and Haruka Terui (Sena voice actor).
Samurai Warriors 5 is due out for PlayStation 4 and Switch on June 24 in Japan, followed by PlayStation 4, Xbox One, and Switch in the west and PC via Steam worldwide on July 27.
View the screenshots at the gallery.