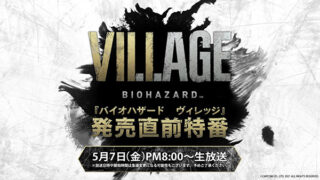 Capcom will host the "Resident Evil Village Launch Special" live stream on May 7 at 20:00 JST, the company announced. You will be able to watch it on YouTube.
Presenters include Resident Evil Village producer Tsuyoshi Kanda and director Morimasa Sato, as well as special guest Eiko Kano (comedian), and Capcom TV! regular members Ayana and (MC) and Gorgeous (commentary).
Resident Evil Village is due out for PlayStation 5, Xbox Series, PlayStation 4, Xbox One, PC via Steam, and Stadia on May 7 worldwide.