Where the Heart Leads physical edition announced
Due out day and date with digital release.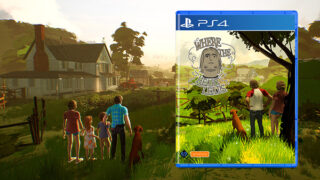 Perp Games will release a physical edition of Armature Studio-developed Where the Heart Leads day and date with its digital release on July 13, the publisher announced.
"It's with great pleasure that we have partnered with Perp Games, a publisher that strongly values making physical editions something more special than just a boxed disc," said Armature Studio game director Todd Keller in a press release. "I know together we can create a very rewarding experience for Armature Studio fans, PlayStation gamers, and collectors."
Perp Games managing director Rob Edwards added, "It is extremely exciting when a developer embarks on a project of this magnificence and magnitude. And even more so, when the developer succeeds in such spectacular fashion. The highly talented team at Armature will take you on an emotional journey and we are very proud to be part of that journey."
Here is an overview of the game, via Armature Studio:
About

One stormy night, Whit Anderson attempts to save the family dog and tumbles down a mysterious sinkhole. Within, he finds a distorted reality and a wondrous, terrifying power to change his history by reaching back into the moments that defined his life. Guide Whit through his recollections, discovering whether the grass is greener and where you were always meant to be.

Key Features

Take the journey of a lifetime as Whit Anderson, an artist and would-be farmhand who retraces his steps as a child, parent, and elderly man.
Hundreds of choices across a 600,000-word script, equal to five novels and offering virtually limitless permutations.
Dozens of endings and hundreds of outcomes. For many choices, a consequence.
View a set of packshots at the gallery.