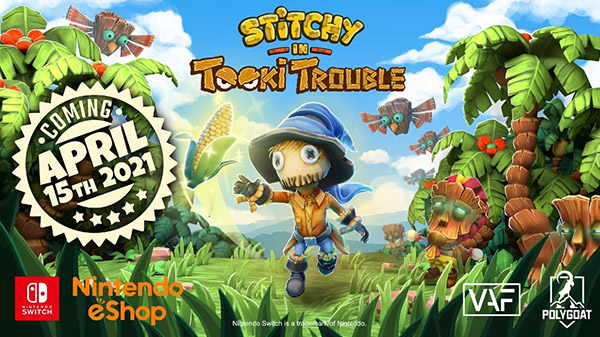 Side-scrolling platformer Stitchy in Tooki Trouble will launch for Switch on April 15 for $12.99 / €12.99 / 1,348 yen, developer Polygoat announced. Pre-orders are available now at a 25 percent-off discount price in Europe.
Here is an overview of the game, via Polygoat:
About

You play as Stitchy, a dedicated scarecrow, on a platforming quest to recover your stolen corn from the troublesome wooden Tooki! A striking art style full of color and character brings the world to life, from lush jungles to a Tooki factory. Ride minecarts, dodge chunky wooden piranha, and fight enormous bosses as you try to recover every stolen piece of corn! There are three worlds on Stitchy's journey, each with nine levels, a boss to beat, and a secret level to discover!

Stitchy is easy to pick up and play on the go, with charming fairy-tale art plus inventive enemies and intuitive controls that make this an all ages platforming delight! Trust us—you'll be a-maized!

Key Features

Colorful single player platforming fun.
Play on the go—jump in and out with ease.
Delightful all-ages fairytale side-scroller.
Three worlds, each with nine levels, a boss battle, and a secret level!.
Watch a new trailer below.