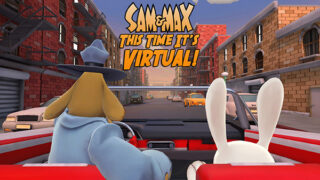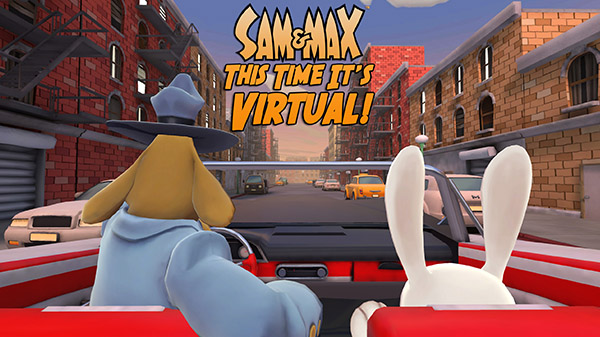 Big Sugar will publish HappyGiant-developed virtual reality game Sam & Max: This Time It's Virtual! for Oculus Quest in June for $29.99, followed by SteamVR and Viveport Infinity later in 2021, then PlayStation VR in early 2022, the companies announced.
"We're thrilled to finally announce platforms for Sam & Max: This Time It's Virtual!", said HappyGiant CEO Mike Levine in a press release. "We've created something insanely weird and fun. It's breaking new ground for virtual reality, while staying true to the Sam & Max / LucasArts vibe. The folks at Big Sugar have been phenomenal supporting us and helping us bring the game to as many platforms as possible."
Big Sugar CEO Nick Alfieri added, "HappyGiant has assembled an all-star team of LucasArts veterans, and created a game dripping with nostalgia, as well as being on the cutting edge of virtual reality gaming. Whether you are an old school Sam & Max fan, or new to the franchise, this game has something for everyone."
Here is an overview of the game, via Big Sugar:
About

Sam & Max: This Time It's Virtual! is the pair's first original game in over a decade, as well as their inaugural foray into virtual reality. It blends the banter and classic crime-solving adventure elements for which the duo is known with specialized Freelance Police training exercises, resulting in a fresh, eclectic experience that is unique to the medium.

Even multimedia evil-slappers like Sam and Max could use a hand, and this time they're using the incomprehensible magic of virtual reality to invite the player into their off-kilter world for a furious day of monster-slaying, obstacle courses, responsibly discharged firearms, and, of course, saving the entire freaking world.

HappyGiant's team includes Steve Purcell, the creator of Sam & Max, who is consulting on the game design, art, and story. In addition, other team members include renowned concept artist Peter Chan and writer / designer Mike Stemmle, both of whom held lead roles on LucasArts 1992's Hit the Road. Julian Kwasneski and Jared Emerson-Johnson of Bay Area Sound, who worked on the Telltale series, are also on board. David Nowlin and Dave Boat are returning to voice Sam and Max.

Key Features

Experience the two-fisted japes and tomfoolery of internationally beloved icons Sam and Max in mind-melting virtual reality!
Push yourself to be the best of the best of the middling, as a dog and a naked rabbity thing harangue you through different Freelance Police Academy training challenges.
Discover the horrible and socially relevant secrets lurking behind, under, and within Cap'n Aquabear's rotting theme park!
Give evil scientists and demonic trespassers their just desserts… with sprinkles!
Immersion so real you can feel Sam's breath on your neck!
Watch a new gameplay video below. View a new set of screenshots at the gallery.