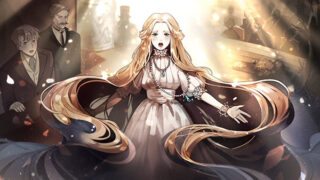 Mystery adventure game MazM: The Phantom of the Opera will launch for Switch and PC via Steam on March 25 for $14.99, publisher CFK and developer Growing Seeds announced. Nintendo eShop pre-orders will be available at a 20 percent-off discount price of $11.99. The game will support English, Spanish, Russian, Korean, Japanese, and Chinese (Simplified and Traditional) language options.
Here is an overview of the game, via CFK:
■ Story

Decades after "The Phantom of the Opera" scandal that once shook the Parisian opera house, a private detective visits the place to investigate and uncover the truth behind "The Phantom"…

■ Gameplay

You are a private detective in 1910 Paris trying to uncover what really happened in the 1880 "The Phantom of the Opera" scandal.

Your investigation doesn't stop at finding the people involved and listening to their stories. You will travel back to the year 1880 and experience the actual scandal from the eyes of the people at that time.

Figure out the next destination and person to investigate based on what you heard from the characters.

Follow the five chapters, each with great volume, and discover the truth behind the scandal.

Collecting footnotes is another fun when progressing the story.

As you gather information you will understand the world of The Phantom of the Opera better, and ultimately discover the hidden truth.

During the gameplay, you will encounter mini-games that add immersion to the story.

From reading letters to breathtaking chase, you will take part in the characters' attempt to escape from The Phantom of the Opera.

■ Characters

Christine Daae – The choralist of the opera house. By the recommendation of a mysterious figure, she becomes the main actress of the farewell performance. And she finds herself involved in the uncanny scandal with the Phantom of the Opera. Although uneasy and frightened, she tries to stand up to the situation she is in.
Raoul de Chagny – A French navy officer, viscount, and the member of the most powerful family in Paris. His relationship with Christine began as a boy, when he got her wind-blown scarf back. Visiting Paris for vacation, he meets Christine once again. However, he gets himself involved into "The Phantom of the Opera" scandal through dear Christine…
Detective – A private detective who visits the Parisian opera house seeking the truth of "The Phantom of the Opera" scandal. Word has it that those who chase the Phantom do not live to tell the tale, but he continues on with his investigation for the truth.
??? – A mysterious figure who suddenly made appearance during the farewell performance. People are afraid of him, seeing him as "Phantom of the Opera," the ruler of the opera house. If he is really the mastermind behind every incident, why is he causing such a terrifying scandal?
Watch a new trailer below. View a new set of screenshots at the gallery.