Boys' love visual novel Luckydog1 coming to Switch
Currently available for PS Vita, PC, iOS, and Android.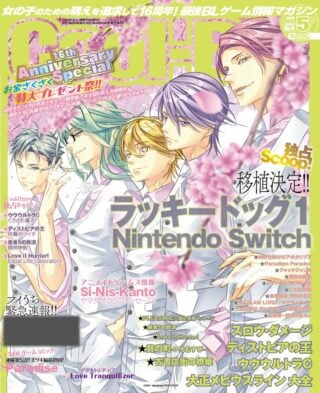 Prototype will release a Switch version of Tennenouji-developed boys' love visual novel Luckydog1, the April 2-due issue of Cool-B magazine reveals. A release date was not announced.
Luckydog1 first launched for PC in June 2009 in Japan, followed by iOS in December 2013, Android in July 2014, and PS Vita in March 2018.
Publisher MangaGamer announced an English localization for PC, Mac, and Linux, but has yet to set release date.
Here is an overview of the game's story, via MangaGamer:
It all starts with the slam of a prison door. Four captains from the same Mafia family, the CR:5, are taken out in one fell swoop and left to rot behind bars.

Lucky for them, our hero's already there.

Gian's just a run-of-the-mill wiseguy, passing his time doing petty jobs for the family when he's on the outside and living the lazy life when he's in the slammer. But those easy days come to an end when he gets word from the boss: if he can break the captains out, Gian will earn a spot at the top of the hierarchy.

Can he pull off a job this big, or is it more than even Gian's fabled good luck can manage?