Astro City Mini coming to North America via Limited Run Games
Pre-orders open March 26.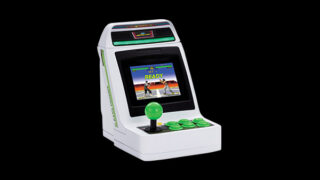 Limited Run Games will release Astro City Mini in North America, the distributor announced. Pre-orders open on March 26.
Astro City Mini is the the mini version of the classic Sega arcade cabinet. It first launched in Japan in December 2020.
The following products will be available exclusively via Limited Run Games:
Astro City Mini itself includes the following 37 playable games:
Alex Kidd: The Lost Stars (with Stella)
Alien Storm
Alien Syndrome
Altered Beast
Arabian Fight
Bonanza Bros.
Columns
Columns II
Crack Down
Cyber Police ESWAT
Dark Edge
Dottori Kun (Dot Race)
Fantasy Zone
Flicky
Gain Ground
Golden Axe
Golden Axe: Revenge of Death Adder
My Hero
Puyo Puyo
Puyo Puyo 2
Puzzle & Action: Ichidant-R
Puzzle & Action: Tant-R
Rad Mobile
Quartet 2
Scramble Spirits
Sega Ninja
Shadow Dancer
Shinobi
Sonic Boom
Space Harrier
Stack Columns
Thunder Force AC
Virtua Fighter
Wonder Boy
Wonder Boy in Monster Land
Wonder Boy III: Monster Lair