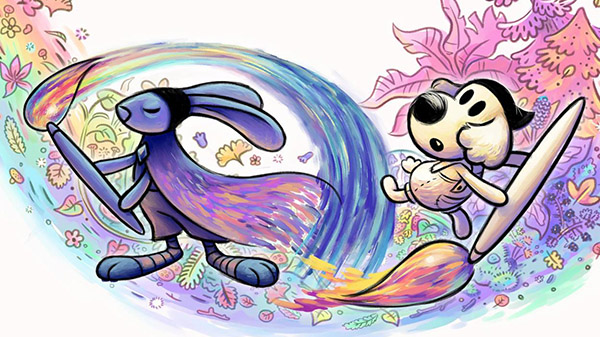 Painting adventure game Chicory: A Colorful Tale will launch for PlayStation 5 and PlayStation 4 in addition to its previously announced PC (Steam) and Mac versions in 2021, publisher Finji and developer Greg Lobanov announced.
Chicory: A Colorful Tale was funded on Kickstarter back in August 2019. In it, you play as a dog that wields a magic paintbrush, and use color to explore, solve puzzles, and make friends.
According to Finji, the PlayStation 5 version "will take full advantage of features that make the console unique."
Here is an overview of the game, via its Steam page:
About

Chicory: A Colorful Tale is a top-down adventure game about a dog wielding a magic brush! Use the painting powers to explore, solve puzzles, help your animal friends and restore color to the world.

The Brush is a one-of-a-kind artifact that can color the world. Naturally, it needs a wielder, a master artist responsible for all colors and for passing the brush down. The current wielder, Chicory, is immensely talented and beloved by all… until all the color in the land vanishes, and her with it! I guess that leaves it up to you, her number one fan, to take up the brush and fill in for her. Hmm… good luck!

Key Features

Explore the Picnic Province, and draw on anything!
Manipulate the environment with your paint and solve puzzles!
Unlock new paint abilities and use them to reach new places!
Collectible clothes, plants and furniture to dress your character and the world how you want!
A world full of animal characters to help and befriend!
Local co-op! Play with your friends and paint together!

It's like Zelda in a coloring book world, with a dash of Animal Crossing!
Watch a new trailer below. Visit the official website here.