Mortal Shell: Enhanced Edition coming to PS5, Xbox Series on March 4
A free upgrade for existing owners.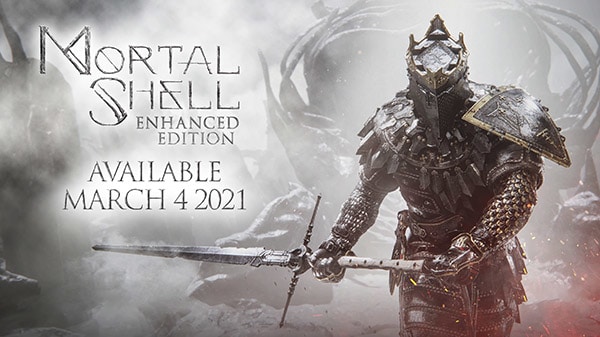 Publisher Playstack and developer Cold Symmetry will release Mortal Shell: Enhanced Edition digitally for PlayStation 5 and Xbox Series on March 4 for $29.99 / £24.99 / €29.99, the companies announced. Users who already purchased Mortal Shell for PlayStation 4 or Xbox One will receive a free upgrade.
Mortal Shell: Enhanced Edition will also be available as a physical edition in $29.99 / £24.99 / €29.99 standard and $39.99 / £34.99 / €39.99 Deluxe editions at all major participating retailers this spring in North America and Europe. The Deluxe Edition includes a 140-page art book featuring never before seen concept art and illustrations, an exclusive reversible cover, and art postcards.
In Japan, publisher DMM Games will release the physical edition of Mortal Shell: Enhanced Edition for PlayStation 5 on May 20 for 4,071 yen. Users who already purchased the PlayStation 4 version will be able to upgrade for 100 yen.
Here is an overview of the Enhanced Edition, via Playstack:
Mortal Shell: Enhanced Edition provides a superior spectacle of the game's haunting beauty, with rich, meticulous details never seen before on consoles. Along with gorgeous upgraded textures and razor-sharp 4K resolution, it will deliver an uncompromised 60 frames per second gameplay on PlayStation 5 and Xbox Series X. (Mortal Shell: Enhanced Edition renders at 4K resolution and 30 frames per second on Xbox Series S.)

This remaster has been calibrated to take full advantage of the PlayStation 5 DualSense controller's suite of immersive technologies. From the whispering sounds and heartbeat vibrations that resonate from your controller as you approach a new Shell, to the impact you feel in the palm of your hands as you utilize the harden mechanics, this enhanced edition gives PlayStation 5 owners a rich physical connection to the game's dangerous and ruthless world like never before.
"This next-generation upgrade has been crafted in the same spirit as the original—with a painstaking and meticulous attention to detail that our fans expect and deserve," said Playstack head of PC and console Kiron Ramdewar in a press release. This, along with Mortal Shell's Steam release this summer, as well as other exciting plans we can't wait to announce, will ensure 2021 is a vintage year for Mortal Shell fans."
Mortal Shell first launched for PlayStation 4, Xbox One, and PC via the Epic Games Store in August 2020. A Steam release is due this summer.
Here is an overview of the game, via Playstack:
About

Awakening as an empty vessel, you will enter into a shattered and twisted world where the remains of humanity wither and rot. Implored to do the bidding of the mysterious "Dark Father," you must traverse this tattered landscape and track down hidden sanctums of devout followers. There, in Mortal Shell's most hallowed grounds, you must overcome formidable foes and harvest the sacred glands. You won't be truly alone when the dead litter your path: Scattered across this land are the remnant anima of lost warriors who can be inhabited to gain their unique abilities and knowledge of weapons. The Dark Father is desperate for you to complete your task — but to what end?

Key Features

Discover "Shells" to Suit Your Playstyle – The lost remains of defeated warriors are yours to unearth. Awaken these Mortal Shells, occupy their bodies and significantly widen your understanding of different forms of combat. Inhabit a Shell that best fits your style and utilizes their own unique mastery of skills and weapon upgrades.
Iron Sharpens Iron – Combat is strategic and deliberate. Survival demands superior awareness, precision and instincts. You must commit your sword only when an opportunity opens. Calculate your parries to unleash devastating counterblows.
Non-linear Campaign – Draw your own path across marsh-infested lowlands, through a gargantuan cathedral of obsidian rock, and into an ancient crypt frozen into the crest of a mountain.
Deep Upgrade Paths – The stronger your connection to each Mortal Shell grows, the better you can harness their innate talents. Craft unique upgrades, sharpen your blade with acid, and study dark arcane abilities that imbue your attacks with supernatural devastation.
Face Haunting Foes – Your path is guarded by desperate adversaries, devoted to inscrutable gods. Behold creatures both pitiable and grotesque, but do not let fear halt your journey. Muster your courage and face them down.
Developed by AAA Veterans – Mortal Shell has been developed by a coalition of seasoned veterans with an unbridled passion for the soulslike genre.
Watch a new trailer below. View a set of screenshots at the gallery.