Metro Exodus Enhanced Edition coming to PC this spring; PS5 and Xbox Series upgrades detailed
Ray tracing. Ray tracing everywhere.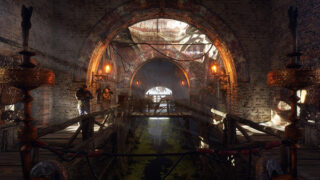 Publisher Deep Silver and developer 4A Games will release Metro Exodus Enhanced Edition for PC via Steam, the Epic Games Store, and GOG this spring, the companies announced.
Like the upcoming PlayStation 5 and Xbox Series versions, which are due out in 2021, users who already own Metro Exodus will receive the Enhanced Edition as a free upgrade.
"This upgrade is so extensive, it will require a ray tracing capable GPU as the minimum spec, and we will need to deliver this version as a separate product—it is not a simple 'patch' to the base game—instead it will be offered as an extra entitlement to all existing Metro Exodus PC players," 4A Games said in a blog post. "The PC Enhanced Edition will offer additional ray tracing features, including Advanced Ray Traced Reflections and support for DLSS 2.0 on NVIDIA hardware, which offers sharper image details and increased framerates and display resolutions."
The developer also shared additional information on the PlayStation 5 and Xbox Series versions of Metro Exodus.
"The base game and downloadable content expansions will feature both our ground-breaking Ray Traced Global Illumination (RTGI) and the Ray Traced Emissive Lighting techniques pioneered in The Two Colonels expansion across all content," 4A Games said. "The next gen consoles will benefit from dramatically reduced loading times thanks to our use of their SSD storage optimizations, boast 4K texture packs, and a range of platform specific features including spatial audio and controller latency improvements on Xbox, and support for the haptic features of the PlayStation 5 Dual Sense controller."
4A Games is targeting 1080p resolution for the Xbox Series S version, with frame rate "still to be determined." But the other benefits mentioned above, including ray tracing, will be in place.
Here are all the upgrades coming to Metro Exodus for PlayStation 5 and Xbox Series, as well as Metro Exodus Enhanced Edition for PC:
Full ray traced lighting throughout—every light source is now ray traced.
Next-gen ray tracing and denoising.
Next-gen temporal reconstruction technology.
Per-pixel ray traced global illumination.
Ray traced emissive surfaces with area shadows.
Infinite number of ray traced light bounces.
Atmosphere and transparent surfaces receive ray traced bounded lighting.
Full ray traced lighting model support with color bleeding and for every light source.
Advanced ray-traced reflections. (PC Enhanced Edition-only.)
DirectX 12 Ultimate support (including DXR 1.1 and variable rate shading)
GPU FP16 support and thousands of optimized shaders.
Support for DLSS 2.0. (PC Enhanced Edition-only.)
Addition of field of view slider to main game options.
4K textures added to packages.
Further bug fixing / polish pass.
Metro Exodus is available now for PlayStation 4, Xbox One, and PC via Steam, the Epic Games Store, and GOG.